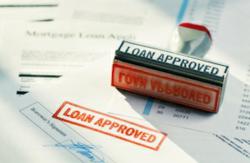 "The fact that some studies show that more than 79% of credit reports have mistakes leaves me without words. That would be like your bank losing your money over three quarters of the time."
- Chris Reshetar
Dallas, TX (PRWEB) May 26, 2011
Mortgage professionals are finding success utilizing S.O.S. - Score Optimization Systems, the latest technology in the credit repair industry. As one of the credit repair pioneers and industry leaders for over twelve years in delivering mortgage providers and their clients more home loan approvals, S&S Private Capital, Inc. has developed an entirely new way of streamlining a true partnership that is providing lenders and mortgage loan professionals across the country with the credit scores their clients require to obtain their mortgage goals regardless of their current credit history.
Melanie Hadley with Cornerstone Mortgage has been able to close several what were once impossible FHA home loans by utilizing S&S Private Capital's Score Optimization Systems along with its "Guaranteed Home Loan Approval" program, which is revolutionizing the credit repair and rapid rescore industries allowing mortgage providers to close more loans that were once unobtainable.
Hadley was shocked by the quick turn-around. "I was a little apprehensive in turning to credit repair for my clients after all of the horror stories that swarm the entire industry, but the staff at S&S Private Capital along with their S.O.S. technology gave me the confidence to refer clients for, not credit repair, but credit score optimization. Then, when I was able to close a home loan for one of my clients in less than three months which I thought was an impossible situation with a credit score initially in the mid 400's, I became a firm believer in the success of the S.O.S. – Score Optimization Systems and all of their promises."
Gene Schwalen, CEO of S&S Private Capital, Inc., developed his S.O.S. - Score Optimization Systems to help individuals accurately reflect their credit risk and identify and eliminate credit reporting errors while optimizing their credit rating and purchasing power. "A negative item may stay on a consumer's credit report for seven to ten years, and sometimes even longer if the debt is sold over and over again and falsely reported. These negative items can be extremely damaging to an individual's credit score and subsequently cost them thousands of dollars in interest overcharges each and every year, or even worse, deny them the financial solutions they desire. Utilizing our S.O.S. – Score Optimization Systems, we execute the rights of our clients according to Consumer Laws including the Federal Fair Credit Reporting Act and Fair Debt Collection Practices Act to challenge these negative items and ensure any and all information that is inaccurate, erroneous, obsolete or unverifiable is removed from their personal credit report. This tremendously and successfully optimizes their credit rating."
Credit reporting inaccuracies are almost inevitable these days. In fact, the latest research performed by the U.S. PIRG proved that 79% of the credit reports surveyed contained either serious errors or other mistakes of some kind. With the staggering evidence of these credit reporting mistakes in addition to the much stricter lending guidelines, many mortgage loan providers like Chris Reshetar are searching for solutions for their credit challenged clients "It is such a relief to know that I can rely on the services of S&S Private Capital and their incredible technology, S.O.S. - Score Optimization Systems, that provides consumers with solutions and the ability to fight back against the credit reporting agencies and all of the inaccuracies reported to their credit files," says Reshetar, The Mortgage Genius. "The fact that some studies show that more than 79% of credit reports have mistakes leaves me without words. That would be like your bank losing your money over three quarters of the time."
S&S Private Capital, Inc. and its S.O.S. – Score Optimization Systems focus on credit report repair, and more importantly, credit score optimization, while educating clients on how to obtain all their home loan and financial goals by effectively utilizing their credit as a tool, not as a means. In business since 1998, the developers of Score Optimization Systems have helped thousands of individuals, families and businesses across the country and continues to assist thousands of new clients every year realize the value a great credit rating brings.
###