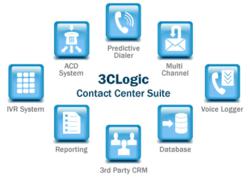 Our sales and business productivity has increased tremendously as our representatives are able to take advantage of a simple, easy to use system.
Rockville, MD (PRWEB) April 18, 2012
3CLogic, the leader in cloud based contact centers hosted on Amazon Web Services (AWS), is proud to announce that Ultimate Solutions Associates has switched to 3CLogic to run its Home Loan Modification programs. For many businesses, choosing the right contact center software to administer its Inbound and Outbound campaigns efficiently is critical. If the user interface is cumbersome for reps to learn and adopt, it can prove to be a sinkhole for time and money. 3CLogic provides tailored contact center solutions for businesses of all sizes, including important functionalities such as customized IVR (Interactive Voice Response) systems, flexible pricing options and both real time and historical reporting formats.
Ultimate Solutions Associates, aiming to provide clients with assistance on safely and efficiently modifying their home loans, works with clients to protect their properties from falling victim to foreclosures. Ultimate Solutions Associates worked with 3CLogic to administer comprehensive campaigns with specially trained legal assistants to respond to customer inquiries and mortgage issues. Ultimate Solutions Associates leveraged some of 3CLogic's Contact Center core features such as live agent monitoring tools and customized IVR (Interactive Voice Response) branches assigned to specific legal assistants.
Yvonne Stewart, President of Ultimate Solutions Associates stated, "Switching to 3CLogic's Contact Center software from our previous solution provider has shown a dramatic increase in the efficiency of our representatives. Our sales and business productivity has increased tremendously as our representatives are able to take advantage of a simple, easy to use system."
Ultimate Solutions Associates benefits from a tailored Interactive Voice Response (IVR) for incoming callers, that handles both business hour and after hour calls efficiently. This enables Ultimate Solutions Associates' customers to reach the desired legal assistant at their personalized extension, or be forwarded to a default operator. During business hours, customers who contact Ultimate Solutions Associates are greeted with a welcome message, and then directed to their respective legal assistant, raising customer satisfaction.
"3CLogic is pleased to provide Ultimate Solutions Associates with an affordable, custom tailored solution that provides them with all the core essentials they need to manage their agents and customers," said Raj Sharma, President and CEO of 3CLogic. "We welcome Ultimate Solutions Associates to join our growing list of customers switching from our competitors. This further proves that 3CLogic's Virtual Telephony Application Grid (V-TAG) architecture provides the most reliable infrastructure for cloud based call centers."
By switching to 3CLogic's Contact Center Solution, Ultimate Solutions Associates' legal assistants have the ability to check all forwarded calls to their voice mail box directly through a web browser. This provides them with the convenience of being able to assist their customers while on the go. The 3CLogic software also allows supervisors to have access to agent voice mails, live monitoring of their representatives, a barge-in feature and other reporting tools to effectively manage all incoming calls and inquiries. Similarly, managers and supervisors benefit from having on demand access to all historical and real-time reporting and records at the click of a button. This allows managers to see how interactions between representatives and customers were handled, how certain result codes were selected, or what areas of improvement need to be implemented.
About 3CLogic:
3CLogic, headquartered in Rockville, Md., offers a full suite of cloud based inbound and outbound customer interaction channels such as voice, chat and social media, which integrate with existing Customer Relationship Management (CRM) software. This integration provides businesses with a 360 degree view of all customer interactions regardless of the channel chosen by their customers. With 3CLogic's cloud based Contact Center, companies have more accurate and timely information about their prospect or customer and they can more efficiently respond to communications, ensure customer satisfaction with better service, and drive toward a larger lifetime value of each account, customer or client. For more information, please contact 3CLogic at 800-350-8656 or info(at)3clogic(dot)com. http://www.3clogic.com.
About Ultimate Solutions Associates:
Located in Winter Park, FL, Ultimate Solutions Associates is a for profit corporation aimed at assisting their customers from losing their properties to foreclosure. Ultimate Solutions Associates provides their clients with the help needed to safely and effectively modify their home loans. Their web based loan modification document preparation software assists homeowners by offering them comprehensive software with the guidance required to safely and effectively undergo the loan modification process. With 7 new loan modifications available today, Ultimate Solutions Associates covers all occurrences that their customers may face ranging from loss of job, layoffs, and death of a spouse.