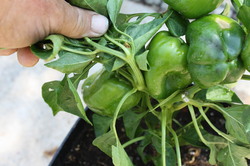 Ukiah, CA (PRWEB) July 31, 2009
Tip and Laura of Hydro-Plans.com are proud to announce the addition of a Eco friendly hydroponics system designed for simplicity as well as reliability.
The hydroponics system uses no electricity, as there are no pumps or timers necessary. The reservoir feeds the control system that distributes the nutrient solution to the growing containers when the plant demands water.
Tip and Laura have been designing simple hydroponics plans for a couple of years to demonstrate how easy hydroponics really is. Our first hydroponic system was made in 1983 and was a passive wick method of hydroponics. The results of that hydroponic system were so good, that many more systems followed using a variety of pumps, timers, and sprayers, etc.
Hydro-Plans has found that the simple passive systems works very well and takes the least amount of money to build. Plastic doesn't break down for many years in a land fill making the recycling of plastic for reservoirs, trays, and growing containers a viable option. Many items that can be found laying around a typical house or garage, and of course garage sales, can be used in hydroponics.
For additional information on the new hydroponics system or to see other diy system plans and projects, visit Hydro-Plans.com.
Contact:
Tip and Laura
owners and designers
<a href="mailto:support@hydro-plans.com">support@hydro-plans.com</a>
Ukiah, CA 95482
Simple Hydroponic System
# # #