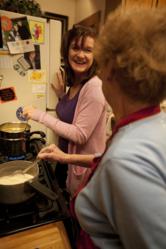 There's nothing like a good family recipe and the story that goes with it to light up the eyes of an older adult.
Omaha, NE (PRWEB) November 12, 2011
There's nothing like a good family recipe and the story that goes with it to light up the eyes of an older adult. Now, just in time for the holidays, there's a cookbook that features both.
The Home Instead Senior Care® network, through the organization's local North American offices, has collected favorite family recipes as part of the Homemade Memories Recipe Contest.
The Homemade Memories Cookbook, which features 50 of those recipes and the stories that make them memorable, is now available for purchase for $34.95 plus shipping and handling. Proceeds will go to the nonprofit Home Instead Senior Care Foundation to benefit North American seniors.
Joining seniors at mealtimes is just as important as the recipes that are so meaningful to families, according to research conducted for the Home Instead Senior Care network. Eighty-five percent of seniors who live alone say that having someone to share their meals makes those times more satisfying for them, according to the research. This research also revealed that lack of companionship is the biggest mealtime challenge for these seniors.*
The Home Instead Senior Care network has understood the value of companionship from the very beginning. Home Instead Senior Care Co-Founders Lori and Paul Hogan first set up shop in the house where Paul grew up. At the time, Paul's mother, Catherine Hogan, was caring for her mother at home.
Grandma Eleanor Manhart, who had reared 12 children, was 89 years old when her health began to decline. Everyone agreed that the best place for her was at Catherine's house, where the entire family could help out.
As it turned out, Grandma Manhart had been a great bread baker in her day. So daughter Catherine would regularly break out the bread machine and, soon, the aroma of fresh-baked bread would waft through the house.
Meanwhile, the Hogans were inviting potential candidates to interview for jobs caring for seniors. That wonderful smell would be the first thing CAREGiverSM candidates noticed when they arrived for their job interviews, along with Grandma Manhart, who was there to greet many of them.
Recipes continue to be an important part of the Hogan-Manhart family legacy, Catherine said. "I have a family recipe book that is more than 100 years old," she noted. Catherine, who loved to cook for her own six children, said she has fond memories of family mealtimes. "I was a good cook, and my children enjoyed that. Meals were a wonderful time together sharing food and stories."
The cookbook can make a great holiday gift for any family member.
*The Home Instead Senior Care network completed 600 telephone interviews with seniors age 75 and older in the U.S. who live alone in their own homes or apartments. The sampling error is +/-4.0% at a 95% confidence level.
ABOUT HOME INSTEAD SENIOR CARE
Founded in 1994 in Omaha by Lori and Paul Hogan, the Home Instead Senior Care® network is the world's largest provider of non-medical in-home care services for seniors, with more than 900 independently owned and operated franchises providing in excess of 45 million hours of care throughout the United States, Canada, Japan, Portugal, Australia, New Zealand, Ireland, the United Kingdom, Taiwan, Switzerland, Germany, South Korea, Finland, Austria, Italy and Puerto Rico. Local Home Instead Senior Care offices employ more than 65,000 CAREGiversSM worldwide who provide basic support services – assistance with activities of daily living (ADLs), personal care, medication reminders, meal preparation, light housekeeping, errands, incidental transportation and shopping – which enable seniors to live safely and comfortably in their own homes for as long as possible. At Home Instead Senior Care, it's relationship before task, while continuing to provide superior quality service that enhances the lives of seniors everywhere.
###