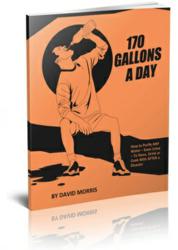 Boil advisories and water quality violations happen all the time in America, merely hinting at what a larger problem could cause.
Austin, TX (PRWEB) July 06, 2012
Homemade water filtration can be done with the simplest, most inexpensive supplies that people would never think to use, according to a recent article from AbsoluteRights.com. It also said that popular home methods of water purification often don't do the complete job, and still leave people who use them vulnerable to water contaminants.
Learning what works is not rocket science, but it does take a reliable source of information that shares both knowledge and skills for cleaning water.
That's why Absolute Rights is offering a new Special Report to achieve that very purpose. "170 Gallons a Day: How to Purify Any Water—Even Urine—to Store, Drink, and Cook With After a Disaster" gives people the blueprint to a successful self-sustainable water supply.
The techniques taught by the Special Report can be implemented instantly, said the online article. It's all part of emergency preparation. When a disaster strikes, bottled water is one of the first essentials to disappear from store shelves. The article said kitchen sinks and garden hoses can't be trusted after a flood or hurricane, because the damage they can do to water supplies are immediate and drastic.
But the people who learn how to make clean water ahead of a disaster will ensure their safety and that of their families with stored water that outlasts any survival period, said the article.
Unfortunately, it doesn't take much to wreck water supplies, the article added. Boil advisories and water quality violations happen all the time in America, merely hinting at what a larger problem could cause.
The article said it's too easy to ruin an entire community water supply with the smallest of mishaps.
Folks who now the information inside "170 Gallons a Day" will enjoy the peace of mind from the stored water they accumulated well before the mishap, said the article.
Absolute Rights informs patriotic Americans on their given rights, plus helps protect those rights from government or disaster intrusion. Most importantly, it prides itself on alerting people when their rights are being threatened, creating an active and informed community. For more information, be sure to visit AbsoluteRights.com.
"170 Gallons a Day" is instantly giving people a workable plan to follow and saving countless hours of trial and error by sharing its information. When people find out the simple tricks to building homemade water filtration systems, the article said they'll wonder why they never followed such a plan before.