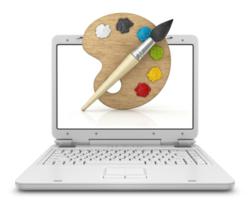 You only have about 6 seconds to capture your audiences' attention and for them to decide if you are worth taking more of their time to move forward and learn about your offerings
San Diego, CA (PRWEB) June 04, 2013
A recent article in Search Engine Journal highlights the perennial conflict between design and SEO. Bop Design, a San Diego website design agency, believes that design and SEO need to be balanced—especially on a website's home page. The agency has released some tips for what should be on a business's home page.
There are several factors when building or re-building a website to consider. The first thing to think about is what type of website is it. Is it going to be informational only or for selling purposes – direct and indirect, and/or will it have a demo or trial of your product or services?
Even though all websites differ in style, content and offerings, there are a few standard elements that all home pages need to have to be effective.
Unique value proposition

What are the 2-3 things that helps differentiate the organization from its competitors?
Company overview
A blurb about the company – it can be either a mission statement or a brief synopsis of who the company is and what they do.
A list of the organizations products and services
Highlight either the most popular or the most profitable products or services.
If the business provide several different lines of products or services, make sure there is a enough of a sampling of the different types so the viewer has an idea of the full scope of capabilities so they can find what they are looking for.
Conversion tools
A short form requesting basic information to capture leads visiting the website.
Examples include: Sign up for a newsletter or subscription to the company Blog, download a white paper, sign up for a demo or trial, or it can be as simple as a request for more information from the organization.
Ways to connect with the company
People often forget to add phone numbers and addresses—it makes it easy for people to contact the business and it enhances a small business's credibility.
Easily recognizable icons for social media – if the organization isn't active in social media yet, get to it because social media is here to stay.
An easy to find link to the organizations' full contact information if it's not all on the homepage.
Bop Design Business Principal, Jeremy Durant offers advice, "Credibility builders are a good way to make visitors comfortable and to build confidence right up from that you are legitimate and can provide the products and services they are looking for." Durant continues, "A few items you may want to have on your home page are Testimonials, Quotes, and a news feed to either publications you've been in, company news, events or recent blog posts."
Always make sure to research keywords and present them throughout your site, but most importantly on your home page. These keywords will increase your standing on search sites and provide you with more qualified prospects who are finding just what they are looking for.
A home page shouldn't be crowded and confusing, but it should have enough basic, yet enticing information to capture a visitors' interest and to engage them in furthering their connection with the organization – whether through a request for more information, downloading a white paper, signing up for a trial, or contacting the company directly.
Remember, a website is today's business card, company overview and product brochure all in one. Utilize the home page as a brick and mortar storefront window display, door to door product demonstration and yellow page ad all combined to entice a prospect to walk through the front door, stick around to browse and eventually, hopefully make a purchase and come back in the future.
Durant concludes, "You only have about 6 seconds to capture your audiences' attention and for them to decide if you are worth taking more of their time to move forward and learn about your offerings."
About Bop Design
Bop Design is a boutique marketing communications firm headquartered in San Diego with offices also in the New York metro area. We express a business values through branding, advertising, design and web design. We also help attract a firm's ideal customer through search engine optimization and search engine marketing. The marketing firm's focus is on small businesses that want an external team of marketing specialists to help give their brand an edge in the marketplace.