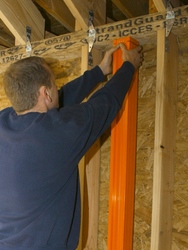 Essex, CT (PRWEB) February 5, 2009
Homepath Products LLC announced today that its eXapath conduit system meets the UL 2024 standard for safety for optical fiber and communication cable raceway. UL 2024 is a large-scale fire test for determining values of flame propagation height for non-metallic conduit that is intended for vertical installation. The company announces successful completion of fire safety testing conducted by Intertek Testing Services (formerly ETL/Semko) in accordance with the UL 2024 Standard for Safety for Optical Fiber and Communications Cable Raceway, third edition, section 11 test for flame propagation (UL 1666 Riser). The company stated that the eXapath components were tested in accordance with the requirements of UL 2024, section 11 and judged to be in compliance with the requirements of the standard.
The eXapath cable conduit system provides an elegant in-wall cable pathway solution that integrates seamlessly with traditional home construction providing a series of readily accessible cabling pathways for use immediately or in the future. In addition, the unique design also enables the installation of media outlets at any point along the conduit from floor to ceiling, before or after drywall is in place. This feature opens opportunity for homeowners to upgrade or add advanced consumer electronics at any time they choose, where they want them and with minimal disruption and expense.
Designed to facilitate the installation and upgrading of structured cabling in the home, the eXapath cable conduit system supports Cat5 cable, Cat6 cable, Cat6a cable, S video cable, home theater cable, home security cable, and general home cabling for low voltage wiring applications.
Homepath Products LLC, a privately-held business based in Essex, Connecticut, designs and markets the eXapath nonmetallic conduit system, an elegant solution made in the USA to enable upgrading residential low voltage cabling. eXapath conduits are practical today...prepared for tomorrow™. The company's web site, http://www.homepathproducts.com, features product information, white papers, industry trends and additional information about the future of low voltage home cabling.
###