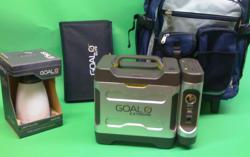 Never be left in the dark again during a blackout
Tarzana, CA (PRWEB) November 03, 2011
First Aid Global LLC, providers of Emergency Preparedness Kits, has taken the solar-powered components of Goal Zero and fabricated them into a useful tool for providing emergency power during a blackout. Designed with the apartment/condo dweller or the worker in a high rise building in mind, their latest effort blends green solar energy with battery technology to provide hours of emergency power to those who are incapable of using a gas-powered generator.
The HomePowerKit contains a foldable 27-watt Monocrystalline solar panel, a 350-watt storage battery, a 400-watt universal inverter and a powerful LED light, all packed into a large backpack on wheels for easy mobility.
"Even my wife is comfortable using the HomePowerKit," says First Aid Global's general manager. "We have a powerful gas-powered generator just sitting in the garage, but everyone is hesitant to turn on the hot and noisy machine. We recently experienced a power-outage from a downed tree and we used the Home Power Kit to light the house while cooking dinner and listening to the radio. Later, I worked on my laptop and made phone calls as my family watched television, all powered by clean and quiet green energy."
The HomePowerKit is one of three kits found on First Aid Global's most recent website, http://www.PowerSurvival.com. The technology originally used to power field hospitals in Africa is now available to the ordinary family at a reasonable price, and the video shows just how easy it is to set up and use.
Keep the chainable batteries plugged into the wall so there's always power when you need it, and during a prolonged blackout, simply recharge using nothing but sunshine, and never be left in the dark again.
About First Aid Global:
A full-service First Aid, Safety and Emergency Preparedness company in Tarzana, CA that has been in business 15 years restocking First Aid Cabinets, Safety Gear and Food Service Gloves and servicing Eye Wash Stations as well as providing CPR and AED Training. Their line of Earthquake Preparedness Kits have expanded to include customers in all 50 states, including disaster preparedness for tornados, hurricanes, fire and smoke escape, and emergency blackouts or power failures. For more information, visit their wholesale website at FirstAidGlobalWholesale.com or call them toll free at 866-305-1753.
# # #