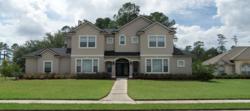 Finding suitable housing in crowded areas can be overwhelming for even the most diligent man or woman.
Jacksonville, Florida (PRWEB) December 18, 2012
Buyers and sellers do not always connect at the right time to help each other. One website has launched online to help make connections between buyers and sellers for homes in the North Florida area. The http://www.homesjacksonvilleflorida.com website has launched online to provide instantly accessible homes for sale in Jacksonville, Florida that are ready for purchase from owners and not realtors.
Obtaining a home mortgage can be complicated for someone that has poor credit and things like foreclosure or bankruptcy. Finding suitable housing in crowded areas can be overwhelming for even the most diligent man or woman.
The homes that are now offered for direct sale online and offline are now ready for purchase at reduced market prices. The elimination of realtors and real estate agencies in the transaction process is helping to expedite the buying and selling of these properties.
Making the transition from apartment or condo living is not one that all people have the opportunity to make. The growing tourist areas in Florida have brought more tourists to live inside and outside of cities. Many of the available rental homes become occupied quickly and can reduce the options of some renters.
The HomesJacksonvilleFlorida.com website is providing its online database of homes that can be searched instantly without the need to schedule a walk through.
One of the new features that has been added to the company website is financing programs. Those that have damaged credit and cannot get traditional bank financing could be accepted into these new programs. This provides a solution for individuals or families to purchase a home that would normally be challenging through traditional means.
The properties that are now available are indexed online and can be searched with a brand new search tool. This tool provides information about the property, new photos and more details that would normally be acquired at an in-person showing. This new tool can be accessed online at this link http://www.homesjacksonvilleflorida.com/listing-property.
About Homes Jacksonville Florida
The Homes Jacksonville Florida company launched online in 2012 and is one of the largest resources to find homes in North Florida. Real estate specialists own and control this company to provide houses that can be purchased without realtor assistance. Both for sale and for rent properties are represented online through the Homes Jacksonville Florida website. A new online search system has been implemented to ensure that all people trying to find a property can research one in under one minute.