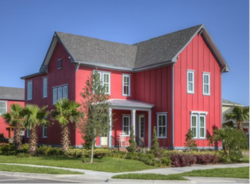 To me, Big Red is emblematic of a new way of thinking for Ashton Woods Homes that goes much deeper than skin deep – or the bright red color.
- Jay Kallos
Orlando, FL (PRWEB) August 28, 2012
Ashton Woods Homes Florida is pleased to announce that its "Big Red House," in Lake Nona's Laureate Park community, has been recognized by Builder Magazine.
Laureate Park, Lake Nona's newest 2,700 lot community, planned specifically for Medical City employees, is becoming a blockbuster success story, according to Builder Magazine. Close to the Orlando International Airport, with biking and walking paths, an Equestrian Center and fishing at one of the nearby lakes, it's easy to see why Laureate Park is selling fast.
Builder Magazine comments on the architectural aspects of the neighborhood and says it's, "…decidedly different. It's traditional, but stripped down to give it a contemporary edge, and with a color palette devised by designer Robin Wilson that diverges from the beige homes that dominate most of Orlando's landscape."
The article in Builder Magazine specifically notes, "The most extreme color example so far is what has become known as The Big Red House, an Ashton Woods Homes model on a prominent corner of the fledgling streetscape. The design is a nod to a Midwestern farmhouse. But its color is punched-up beyond barn red."
"Everybody loves Big Red; we like to push the envelope. It's had rave reviews." says Mike Roche, Ashton Woods Homes' vice president of sales and marketing for the area.
"We currently offer 4 very distinct product lines ranging from maintenance-free urban lofts, traditional single family homes and estate homes," said Mr. Roche. Homebuyers have a variety of floor plans to choose, ranging from 1,701 – 4,100 sq ft and ranging in price from $234,990 – $499,990. Floor plans include 1 story, 3 bed 2 baths, to 2 story, 4 bed 2 .5 bath options.
Jay Kallos, Ashton Woods Homes Vice President of Architecture, says about Big Red, "To me, Big Red is emblematic of a new way of thinking for Ashton Woods Homes that goes much deeper than skin deep – or the bright red color." Mr. Kallos also explained that the floor plans for Laureate Park have flexibility built into them to meet a variety of lifestyles and that can change the character of the home. Mr. Kallos said that Ashton Woods Homes has now included this capability in their other floor plans across the country.
"The heart of the house is the casual living area which has a large space for living and dining and is open to the outdoors. The kitchen has options to move the dining areas to a more traditional room and expand the living area. This flexibility carries back to the rear lane loaded garage, where the homeowner can get a two car or a three car garage with a host of additional features that they choose, from a pool house or game room to a complete one bedroom, one bath rental apartment or multi-generation suite," explained Mr. Kallos.
Additionally, all Laureate Park homes are certified green by a Masco program and are branded with GE Ecomagination, and the entire neighborhood is wired with fiber optic cables that allow "unmatched" Internet connections 10 times faster than is typical.
Ashton Woods Homes has been selling an average of five to six homes a month at Laureate Park, outpacing other new home builders in the community.
Interested homebuyers can visit the Ashton Woods Homes website to view homes for sale in Lake Nona and more information on floor plans and personalization options.
The Big Red House, in Laureate Park, is located at 13866 Walcott Ave, Orlando FL. From I-4: Take Exit 72 for the 528(Beach Line) East. From the 528 take the exit for Narcoossee Rd. Go right (South) and follow under HWY 417 to Tavistock Lakes Blvd. Turn Right and Laureate Park is up on the left.
From the 417: Take exit 19 for Lake Nona Blvd. and go South. Turn left on Tavistock Lakes Blvd. Laureate Park is up on the right.
About Ashton Woods Homes
Ashton Woods Homes is one of the nation's largest private homebuilding companies, with operations in Atlanta, Austin, Dallas, Houston, Killeen, Orlando, Phoenix, San Antonio, Raleigh and Tampa. For more information, visit http://www.ashtonwoodshomes.com.