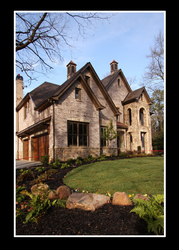 CBG has the right idea. Sandy Springs is a strong market.
Atlanta, GA (PRWEB) February 22, 2008
CBG Homes, a custom homebuilder in, and Sterling & Rhodes, a mortgage boutique specializing in residential and commercial financing, have partnered to buck the slowdown in real estate.
Nationwide real estate has been in a downward spiral. Almost daily, there's more bad news. Experts estimate property prices have already dropped a little over 6 percent - a more than trillion dollar loss. This decline has ravaged real estate professionals. Realtors, builders, and lenders have all been affected. The recent sale of Countrywide, formerly the top lender in the country, to Bank of America is a testament to the pain in the industry.
However, some areas remain largely unaffected.
"We recognize the general real estate trends," says David Lefkovits, co-founder of CBG Homes, "but things are a little different for us. While others are scaling down, we are ramping up for a big 2008. People still want to live in Sandy Spring and Dunwoody. We are confident in our work and the fact, even with all the homes for sale, finding the perfect home is very difficult. Custom building is really the best option."
According to the US Census, in 2006, the national median income was $ 48,201. The Sandy Spring Business Association (SSBA) shows Sandy Spring's average income for 2006 at $130,894 one of the highest in the country.
Furthermore, SSBA shows that Sandy Springs in 2006 had an average home value of $430,054 and the median age was 34. "This strong, young and affluent demographic is a big reason we are focused on the Sandy Springs market", says Marc Lefkovits, co-founder of CBG Homes.
"CBG has the right idea. Sandy Springs is a strong market." states Akpo Igherighe, founder of Sterling & Rhodes, "With the high incomes in the surrounding area, residents probably don't need to worry about crashing real estate. But, it could be the perfect time for someone to take advantage of the market conditions and build the home of their dreams. A few days ago, we quoted a client a 5.25% rate. Amazing!"
To promote the idea of building a custom home in, CBG and Sterling & Rhodes are hosting an event, How to Build Your Custom Home - And Live to Tell About It. The event, scheduled for March 1, 2008, gives tips to save guests time and money. With sponsors, such as No Mas Hacienda and Precision Wine Cellars, it appears it will be a huge success.
Click here for more information about registering for this event
Custom Building Group is a premier with over 25 years of experience and one of the largest inventories of home sites in Sandy Springs and Dunwoody. CBG specializes in bringing to life unique homes that integrate the latest technology with traditional craftsman quality. CBG has a relentless commitment to deliver excellence through superior customer service, attention to detail, construction precision, and quality building materials.
About Sterling & Rhodes Mortgage Services
Sterling & Rhodes Mortgage Services is Atlanta's premier mortgage boutique. Built on the premise of providing sound advice and unique services - including mortgage concierge. The firm caters to strong borrowers and helps them make better financial decisions.
###