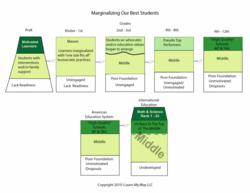 Acquiring Knowledge Should Be Joyful
Austin, TX (PRWEB) March 16, 2012
Nicole Eutsey had taken care to ensure her children had the intellect and creativity to impact the world like a Mark Zuckerberg. Her daughter and son were enthusiastic learners who looked forward to starting kindergarten. But the family encountered mind-numbing and oppressive education, which threatened her children's zeal for learning and their potential.
These experiences caused Nicole to homeschool her children. However, she had to look for a job and a school after her husband was laid off from his job of sixteen years. School staff dismissed her requests that her children be placed with advanced learners. Therefore, she had them tested to verify their abilities since they were homeschool students.
The test scores revealed a new set of educational challenges. Her first grade son scored in the 99.9% percentile in math and achieved a 7th grade reading comprehension ranking. This prompted two public school administrators to suggest that she take him to a private school. They were ill-prepared to meet his education needs.
Administrators tried assuaging her concerns about challenging work for her daughter. They said she was like their "gifted and talented" students. Her third grade daughter only scored in the 98th percentile in math. While her spelling was on grade level and her reading on a 5th grade level, she could formulate 12th grade sentence construction.
Nicole Eutsey believes in preparing children for a 21st century education by focusing on creativity, and relevant applications. "We live in a world full of gadgets with spellcheckers," says Nicole. She does not focus on spelling lists. Her children encounter words in the context of reading and writing. Then, she uses mini word walls that she created to practice spelling sounds and parts of speech, as needed. They concentrate on how ideas are communicated instead of rudimentary mechanics. Thus, when tasked, her daughter can easily put together complex sentences. The results have fortified Nicole that her integrated approach works.
She is re-launching her small business to provide efficient and engaging resources. Her original publications tap into children's creativity and link concepts with skills development. The educational plays for children and teens incorporate imaginative simulations that facilitate applied learning. She is also taking advantage of Amazon's online ordering and fulfillment for small business publishing. Softback copies of her children's plays, Around the World in a Play and The Real McCoys Science 4 Life just launched on Amazon. The reusable mini word walls can be ordered at ourstorypublications.com as well as PDF downloads of the plays. Her education small business ideas are unbounded. She has a science workbook for primary students coming out this spring. Her long range plans include a line of math games and educational software. Plus, she is working on opening resource rooms for homeschool families and others open to unconventional education methods.
"Nicole Eutsey has an exceptional ability to allow children to learn multi-level information in entertaining ways without students even knowing it. She entices them to listen, laugh, and learn in the most natural and interactive way. Exceptional quality, exceptional skills….thank you for helping us help our kids!"
--Marvie Ellis, M.S., CCC-SLP, Award Winning Children's Book Author
###