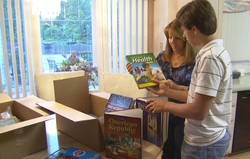 My daughter can't wait for the Connections Academy back-to-school boxes to arrive
Baltimore (Vocus) July 31, 2009
Getting back-to-school supplies takes on a whole new meaning for families with students enrolled in Connections Academy virtual public schools. Just before school begins, they get a back-to-school special delivery: a school year in a box, delivered right to their doorsteps.
Each year, students enrolled in Connections Academy look forward with great excitement to receiving their back-to-school boxes of learning materials. Connections Academy gives students everything they need, including computers, textbooks, workbooks, CD-ROMs, microscopes and other science equipment, art materials, even jump ropes and other physical education supplies.*
"My daughter can't wait for the Connections Academy back-to-school boxes to arrive," observed Trish Sevits of Colorado Springs, whose daughter is enrolled in Colorado Connections Academy. "Opening up the big boxes is almost like opening birthday gifts - it's very exciting and a positive way to start the school year. She just loves it and I love to see her enthusiasm about school."
Connections Academy virtual public schools are more popular than ever this year - and not only because of this high level of support for families. In these tough economic times, many families looking for ways to trim education expenses are switching their children from private schools to virtual schools, which provide a free, highly personalized, high quality education.
Families seeking a public school alternative for gifted students or those not thriving in a traditional 'bricks and mortar' classroom also are flocking to Connections Academy. Parents can still enroll their children in Connections Academy schools for this coming school year. Parents are encouraged to visit ConnectionsAcademy.com to learn more.
The back-to-school boxes, while comprehensive, are just one small part of the Connections Academy virtual public school program. Connections Academy's certified teachers and their relationships with the students and families, coupled with a rigorous, high-quality curriculum, really define the Connections Academy school experience, and contribute to students' academic success.
Connections Academy virtual public schools combine state-certified teachers, a standards-aligned curriculum, unique technology tools, an extensive selection of electives and clubs, and community experiences to create an individualized alternative to the bricks-and-mortar classroom.
All students participate in the nationally accredited Connections Academy program that includes a curriculum combining high quality textbooks from leading publishers with cutting-edge, yet easy-to-use, technology resources and hands-on materials. Learning from home, students work closely with their parents, or other "Learning Coaches," and state-certified teachers, using detailed daily lesson plans personalized to meet individual student needs.
Accountability is central to Connections Academy's mission and all students must meet the same levels of accountability and complete the same state standardized tests as students at traditional public schools. Connections Academy schools serve a wide range of students, including those who are significantly ahead or behind in the classroom; students who benefit from highly individualized instruction; or who want a flexible school schedule.
*Supplies provided differ for each CA school and for each grade.
About Connections Academy
Connections Academy is a leading national provider of high-quality, highly accountable virtual public schools in fifteen states operated in partnership with charter schools, school districts, and state departments of education. Connections Academy schools deliver top quality, personalized education for students that combines certified teachers, a proven curriculum, technology tools, and community experiences to create a supportive and successful environment for children who want an individualized approach to education. In Connections Academy's Personalized Performance Learning® approach, students use daily lesson plans and curriculum materials provided by Connections Academy. Teachers develop a learning plan for each student, utilizing a proprietary, web-based Learning Management System to deliver, track, and administer the learning. In 2009-10 Connections Academy will serve students in Arizona, California (Southern and Central), Colorado, Florida, Idaho, Maryland, Minnesota, Nevada, Ohio, Oregon, Pennsylvania, South Carolina, Texas, Wisconsin and Wyoming. Connections Academy offers grades K through 12, though some schools do not offer all grades. For more information, call 800-382-6010 or visit http://www.ConnectionsAcademy.com.
Contact:
Allison Bazin, Connections Academy Public Relations
(609)247-0275
Sandy Burke, Athena Public Relations
(203)655-3475
###