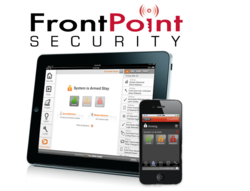 ...FrontPoint Security won the prestigious Angie's List Super Service Award for outstanding customer service in 2010...
Chicago, IL (PRWEB) November 26, 2012
HomeSecuritySystems HQ, the leading national security reviewer has designated FrontPoint Security as the "best" home security company since 2000. HomeSecuritySystems HQ goes one step further by also declaring FrontPoint Security as the ultimate solution for anyone looking for a state of the art home security system backed by 24/7 cellular monitoring. This positive review was based on the following factors:
Customer Service
FrontPoint Security won the prestigious Angie's List Super Service Award for outstanding customer service in 2010. The FrontPoint Security support staff is customer sensitive and proactive in resolving any and all problems.
Online Reviews
Customers are extremely satisfied with the service they receive. Because of this FrontPoint Security has a 5-Star rating on the customer review site, Yelp, and an "A" rating from the BBB (Better Business Bureau).
Cellular Monitoring & Wireless Equipment
FrontPoint includes state of the art cellular monitoring from Alarm.com and wireless equipment from GE Security as standard parts of all security packages. Customers are thus able to receive instant text alerts, view live videos of their property, and both arm and disarm their security system from any corner of the country.
30 Day Trial
All customers are offered a 30-day money back guarantee. Customer satisfaction is a number one priority at FrontPoint.
Free Environmental Monitoring
Professional environmental monitoring to safeguard property against fire, smoke, carbon monoxide and flooding is provided free of charge.
Free Shipping by FedEx
Same day shipping that is free of charge. A customer also can take advantage of an expedite option.
Smash & Crash Technology
FrontPoint's GE Security control panel, the Simon XT, features a patented technology called Smash & Crash. This adds an extra layer of security to the system in cases of intrusion. Any attempt to damage the control panel unit results in an immediate alarm being sent to law enforcement agencies and monitoring stations.
Contact
Other premiums features, including home lighting automation, are available from FrontPoint Security. Please feel free to get your own instant quote here or call them at (866) 363 2035 further information on their products and packages.