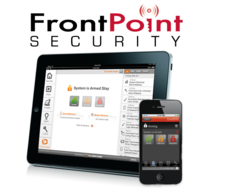 ...FrontPoint Security has an 'A' grade with the BBB (Better Business Bureau) ...
Chicago, IL (PRWEB) December 02, 2012
FrontPoint Security has been announced by HomeSecuritySytemsHQ as the "best" home security company of the decade based on online customer reviews. HomeSecuritySystemsHQ declares FrontPoint has the perfect solution for anyone looking for an up to date and totally reliable home security system. This recognition comes as no surprise, because Front Point Security leads the pack in the following categories:
Customer Service
FrontPoint Security is the recipient of the 2010 Angie's List Super Service Award in acknowledgement of outstanding customer service. FrontPoint's customer service team is a group of customer sensitive professionals who provide high quality service and expert advice.
Online Reviews
FrontPoint Security has an 'A' grade with the BBB (Better Business Bureau), due in no small part to the large number of customers satisfied with both product and service support. FrontPoint is also the only home security company to get a full 5-star rating from the online customer review site, Yelp. FrontPoint's commitment to state of the art technology and world class customer service has been favorably noted all by reviewers and customer service blogs all over the web.
Cellular Monitoring & Wireless Equipment
First-class cellular monitoring from Alarm.com and innovative wireless equipment from GE Security are all part of a FrontPoint Security product bundle. Owners can easily supervise the security of their homes from cellular and smartphones, and can also activate or deactivate their security system, get text alerts and view live videos of the property from considerable distances.
30 Day Trial
FrontPoint Security provides all customers with a 30-day trial on all products. The company's remarkable low return figures suggest that customers are more than satisfied with what they have purchased.
Free Environmental Monitoring
Professional environmental monitoring service is offered by FrontPoint Security to safeguard against fire, smoke, carbon monoxide, or flooding. This service is free for all customers.
Shipping by FedEx
Products are shipped free of charge on the same day they are ordered. Customers may also take advantage of expedited service if they so desire.
Smash & Crash Technology
The patented Smash & Crash technology of the XT GE Security control panel assures FrontPoint customers that any attempt to damage the control panel during a break-in will result in an immediate alarm sent to law enforcement agencies and monitoring stations.
Contact
An instant quote can be obtained right here or they can be called at (866) 363 3025.