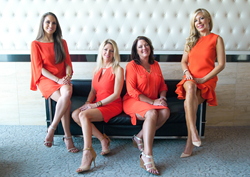 As Homeside continues to grow nationally, we go to great efforts to ensure we open new markets with the right type of people. I feel that we have hit a home run with team LBD. Erin and Stacy are going to help us do great things in the Charlotte market.
Charlotte, North Carolina (PRWEB) March 17, 2016
Homeside Financial is pleased to announce that their national expansion has made its way to the Queen City of Charlotte, North Carolina. Homeside is very proud to welcome team Lending by Design to their mortgage lending family.
Erin Finnen, Stacy Kimrey, Christina Mauney, Kim Williams, and Gina Kirkland join Homeside to help continue the corporate mission of changing the industry from what it has been to what it should be. Together, they come with immense experience and the industry knowledge necessary to provide top tier mortgage lending services to the members of the Charlotte, North Carolina, community.
"As Homeside continues to grow nationally, we go to great efforts to ensure we open new markets with the right type of people. I feel that we have hit a home run with team LBD. Erin and Stacy are going to help us do great things in the Charlotte market."
­–Charles Shackelford, SVP & Divisional Manager
Homeside Financial, a privately held mortgage lender, is one of the nation's fastest growing mortgage lenders. Since opening in late 2013, Homeside has grown to over 300+ employees, across 12+ regional locations throughout the Midwest, Mid-Atlantic and Southeast. Delivering home loans in over 20 states, Homeside was just recognized as a Top 100 lender nationally in 2015 and projects to become one of the top 20 purchase lenders in America within the next 24 months. Dual-headquartered in Columbia, MD, & Columbus, OH, Homeside provides an unparalleled modern mortgage experience to its consumers, and a dynamic career path and culture for its team members. For more information on Homeside Financial, please check out http://www.gohomeside.com or contact us today at talent(at)gohomeside(dot)com. NMLS ID 1124061