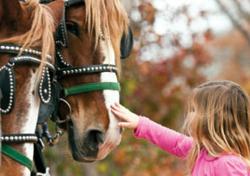 Our Fair is a joyful time of celebration when we can bring together the year's new achievements - what we've learned, crafted and discovered - and share them with friends, family and the surrounding community
Waco, TX (PRWEB) November 08, 2011
Homestead Heritage and The Ploughshare Institute for Sustainable Culture will host the 24th annual Homestead Fair on Thanksgiving Weekend, November 25-27 at Homestead Heritage Traditional Craft Village in central Texas. Fair hours on Friday and Saturday are 9 a.m to 9 p.m. On Sunday the event opens at 12 noon and closes at 5 p.m. This 3-day exposition is a fun and educational festival that focuses on fine handcraftsmanship as well as the skills of sustainable living. Bring the entire family and plan to spend a day – and return the next! There are plenty of activities for everyone in the family to enjoy, from young to old.
Features for this year's Fair include:

Gallery of Craft Masterpieces
Make-Your-Own Activities
Daily Sustainable Living Seminars
"This year's Fair is bursting at the seams," said Josiah Wheeler, one of the Fair organizers. "It's hard to experience all we have in just one day. We really want folks that come to our festival to have the opportunity to step aside from the fast-paced daily urban culture, slow down and experience an entire weekend in a wholesome, family-oriented community atmosphere. Along with the dozens of ongoing craft demonstrations are music presentations, hayrides, great food, Make-Your-Own projects and real-life education on sustainable life skills and crafts."
Each day dozens of ongoing homestead craft demonstrations will be presented in the Craft Pavilion and at the various Craft Village shops, from woodworking with hand tools, hand-thrown pottery, blacksmithing, casting, broom making, basket making and leather boot making to traditional sewing and quilting, spinning, weaving and other fiber crafts. In addition, special demonstrations are scheduled throughout all 3 days of the festival. Watch a master craftsman fashion a fine Windsor chair using hand woodworking tools – beginning with a rough log!
This year, Fair goers can experience over 30 make-your-own activities – dipping a candle, making a toy wooden sailboat, hammering a bronze spoon, weaving a basket or spinning yarn on a drop spindle. Visitors can shell popcorn, shape and bake a pretzel, make fresh butter or even pull some old-fashioned taffy.
A Masterpiece Gallery will be housed in The Barn. This collection is the finest work of 2011 by the award-winning master craftsmen and renowned teachers at Homestead Heritage. Each one-of-a-kind piece represents the goal of the craftsmen to continually increase both skill in and knowledge of their particular field. Pieces will be auctioned by sealed bid, closing Sunday at 5 p.m. to benefit the Ploughshare Institute for Sustainable Culture.
At the Working Homestead, visitors can watch sheep shearing, visit farm animal pens, see organic gardens and watch cider. They can also help milk a cow. Two of the most popular attractions at the Fair include horse farming and sheepdog herding demonstrations. Tours of the farm on a horse-drawn hay wagon or carriage run throughout all three days. A schedule for special daily special demonstrations such as cheese making, pasta making and soap making can be viewed ahead online.
Sustainable Living Seminars will be presented all 3 days of the Fair. Included are topics such as Sustainable Gardening, Beekeeping and Grass-fed Beef as well as Renewable Energy, Sustainable Building, Cheese Making. A complete listing can be found online.
On Friday and Saturday at the Barn Raising site, visitors can help assemble and raise the wall beams of an eighteenth-century barn. Demonstrations at the site will include hewing beams by hand and cutting mortise-and-tenon joints.
Live music begins every day at 2:30 and on Friday and Saturday evenings at 7:00. Booths in the food court and fairground kiosks serve an assortment of multicultural foods all day. For holiday shopping, visit the Craft Pavilion and adjacent craft booths overflowing with hundreds of distinctive, handcrafted items.
No admission; Parking pass $10 at the gate, $7 online in advance. Good for all 3 days.
Homestead Fair • 608 Dry Creek Rd. • Waco, TX 76705 • 254.754.9600
For more information visit HomesteadFair.com
###