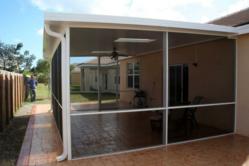 To enjoy an outdoor space in Homestead, you need a screen around you
Miami, Florida (PRWEB) October 25, 2012
The tiny sand fleas in South Florida are called NoSeeums, but they could just as well be called StillFeelums because of the stinging welts their bites leave. Brian Cespedes, chief estimator of Miami-based Venetian Builders, Inc., the leading installer of screened enclosures and sunrooms in South Florida, said, "We're doing our best to have them called JustForgetums, because that's what our screened structures and sunrooms help homeowners do."
Venetian Builders has increased its sales of screened enclosures and sunrooms by 30 percent in Homestead to help homeowners ward off mosquitoes and NoSeeums, also known as sand fleas and biting midges, Cespedes said. Venetian Builders serves Miami, Ft. Lauderdale, Palm Beach and surrounding communities.
Homestead has become popular because it is more affordable than nearby locations in the Keys. "It's really the gateway to the Keys," Cespedes said. The nearness of the Keys increases mosquitoes. The nearness of the coast increases sand fleas.
"To enjoy an outdoor space in Homestead, you need a screen around you," Cespedes said. "In Homestead, that pretty much means adding a screened enclosure, because most new houses there are built without one."
Installing aluminum structures in Homestead requires not just a municipal, but also an approval from homeowners associations that hold sway in many of the developments. Venetian is experienced at speeding along both approval processes.
"Homeowners associations look for structural integrity and a design that fits into the community," he said. "They don't want it to look like it doesn't belong there."
Venetian Builders is prepared for such demands.
"We know that most homeowners associations want the roof to be covered in tile that matches the house," Cespedes said. "So we know we have to use a 6-inch insulated roof, not a 3-inch roof." That kind of knowledge means estimates will be reliable, not radically changed after the permit and HOA approval, he said.
Cespedes also recognizes that conventional mesh on screened enclosures wouldn't help people in NoSeeum-populated areas such as Homestead. Cespedes requires a mesh with smaller openings to keep out the smaller insects but still preserve views.
Sunrooms can be built with windows that contain glass or acrylic, including glazing that resists impact. All windows can be opened to welcome breezes. Acrylic panels can be removed, essentially turning the sunroom into a screened room.
Venetian Builders, Inc., 866-596-2427, offers free and detailed estimates on screened patio rooms, screened pool enclosures and sunrooms in Homestead, Palmetto Bay, Deerwood and other areas of South Florida.