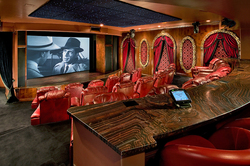 This client likes high technology, and he really likes the fact that projectors of this magnitude are used in commercial theaters.
Kennesaw, GA (Vocus) February 19, 2010
Carefree Electronics Inc. of Phoenix, Arizona, recently completed an illustrious 23-seat home theater featuring Digital Projection International's 15,000 lumen LIGHTNING 30-1080p precision projector. In addition to the large and elaborate interior theater, a 6,800 lumen Digital Projection dVision 30-1080p provides beautiful and bright imagery for an outdoor theater in the backyard of the home. The state of the art residence also includes an audio system that rivals the precision video equipment found throughout the home.
Many home AV service providers might consider the audio and video integration of a 2,318 square foot theater too daunting a challenge to accept. David Marsh, president of Carefree Electronics Inc., approached the project from the opposite perspective, remarking, "Having known in advance how the equipment we specified would perform, I knew the size of the room wouldn't be an issue. The end result is, as I expected, pretty incredible." Marsh's client wanted the best, and the entertainment aspect of this home is truly stellar, enlisting Digital Projection's precision displays, a Focal Grande Utopia Beryllium speaker system, Stewart projection screen, TruAudio BB 465 in-wall surround speakers, Crestron touchscreens for control, and so much more.
Given the 21-foot Stewart screen featured in the theater, few projectors were viable candidates from the outset. Furthermore, the projector needed to be as efficient as possible with respect to energy consumption, as it was to be operated in the client's personal home. As a final challenge, due to the sheer number of seats in the theater, the projector would have to be both remarkably bright and be capable of a very long throw distance, as it would have to be installed in a dedicated room at the back of the large theater.
Marsh chose Digital Projection's commercial cinema-grade LIGHTNING 30-1080p, as it represents one of the most efficient projectors available in terms of lumens produced versus energy consumed. When asked whether the client was intimidated by the projector's overall footprint, Marsh replied, "This client likes high technology, and he really likes the fact that projectors of this magnitude are used in commercial theaters." Video sources include a Kaleidescape movie server, Blu-ray DVD, HD satellite receiver and eight laptop computer stations for presentation opportunities.
In addition to the home's main theater, the client also wanted an outdoor entertainment area to compliment the luxurious Olympic-size swimming pool. Both brightness and image quality were of equal importance, so Marsh chose Digital Projection's single-chip dVision 30-1080p projector. The 6,800 lumen, 7500:1 contrast dVision projector sits in a custom nook behind the bar and projects on a rear projection screen that is approximately 9-feet wide. Equally viewable from both the pool and the sitting area, the dVision 1080p displays beautiful Hollywood and broadcast entertainment, day and night.
Download high-resolution images here: http://www.digitalprojection.com/news/zips/Carefree_photos.zip
™Digital Light Processing and DLP are registered trademarks of Texas Instruments.
Emmy® is a registered trademark of The Academy of Television Arts and Sciences.
About Digital Projection International:
Founded in 1989, Digital Projection International (DPI) has been instrumental in the development and application of Digital Light Processing™ technology by Texas Instruments for projection systems. DPI introduced the world's first 3-chip DLP® projector in 1997, and has since delivered expert system engineering and world-class customer services, thus maintaining its position as a digital imaging pioneer.
DPI's groundbreaking projection research and development has garnered the admiration of industry professionals around the world. This has earned the company many awards, including two Emmy® Awards for Outstanding Achievement in Engineering Development by the Academy of Television Arts and Sciences. DPI remains the first and only projector manufacturer to win the coveted award.
Today, DPI manufactures and distributes an extensive line of ultra high-performance 3-chip and single-chip DLP® projection systems. These projectors are the reference standard for demanding applications such as 3D immersion, large-venue, live-event staging, fortune 5000, education, medical and scientific research, command and control, digital cinema, commercial entertainment, worship and elite home cinema.
###