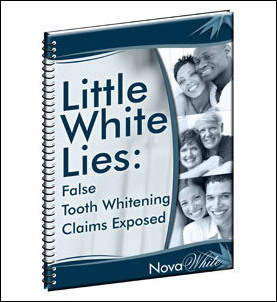 It's a truly global service
Singapore (PRWEB) March 21, 2007
NovaWhite, working with its global team of dental professionals, has developed a tooth whitening treatment delivery system that allows consumers to bypass costly and time-consuming trips to the dentist.
With the aid of an international network of dental labs and the FedEx delivery system, the company can provide consumers with the customized tooth whitening trays and whitening gel found in cosmetic dentist offices, but at a significantly lower cost, more conveniently and quicker.
"It's a truly global service," said NovaWhite's Ashley Truitt, Vice President Operations. "We have negotiated contracts with dental labs all over the world. And our computer system integrates with the FedEx system so that the customer can know exactly where their order is at any time."
The aging process, smoking cigarettes, and consuming beverages such as coffee, red wine, soda, or tea can create stained teeth which can be difficult to whiten. The NovaWhite teeth whitening gel can reduce the effects of staining, enhancing one's smile in a cost-effective manner. NovaWhite's teeth whitening kit offers consumers the convenience of home teeth whitening. And the door to door integrated delivery system makes it time-efficient. As Ashley Truitt says: "With the NovaWhite treatment system, our clients are afforded the freedom to whiten when, where, and as often as they choose."
NovaWhite has also developed a WhiteningClub which can provide savings of up to 60% to consumers through an affordable maintenance program. This tooth bleaching program provides customers with the type of sustained treatment that can keep their smile enhanced over the long-term.
To better educate themselves about the options available, consumers can download a free report entitled Little White Lies: False Tooth Whitening Claims Exposed via the NovaWhite website at novawhite.com/t/prw3/. This report provides consumers with the information they need to make informed decisions about teeth whitening products. Members of the news media can learn more about the NovaWhite system by visiting the company media center at novawhite.com/t/prw4/.
Professional tooth whitening has come of age in recent years, thanks to new developments in the laboratory that have enhanced the effectiveness of tooth bleaching products. With the NovaWhite system, consumers can take advantage of these advances with a speed, convenience and security never before available.
For more information on NovaWhite and its teeth whitening innovations, contact Ashley Truitt or visit NovaWhite's website.
About NovaWhite
NovaWhite Pte Ltd is a professional tooth whitening service that engages in state-of-the-art innovations in tooth bleaching treatment delivery. With global headquarters in Singapore, NovaWhite has developed an infrastructure built on long-standing relationships with dental health care professionals, dental laboratories, dental supply companies, and experts in computer technology and delivery systems around the world. Through these partnerships, NovaWhite seeks to enhance both the quality and the cost-effectiveness of its services.
###