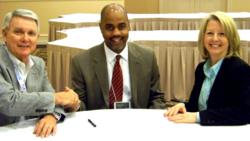 "We needed a valuable partner with an established relationship with these 56 rural hospitals and who better than HomeTown Health" said Dr Mack
Savannah, GA (Vocus/PRWEB) April 12, 2011
Dr. Dominic Mack, MD, MBA and Director of the Georgia Health Information Technology Extension Center (GA-HITREC) at Morehouse School of Medicine's National Center for Primary Care announced a formal agreement between the GA-HITREC and HomeTown Health, LLC last week at the Southeast Regional Critical Access Hospital Conference held in Savannah, Georgia.
HomeTown Health, a network of rural hospitals in Georgia, will work in partnership with GA-HITREC to provide education and outreach services to 56 Critical Access and rural hospitals as part of the recent grant award made to GA-HITREC by the Office of National Coordinator specifically to accelerate critical access and rural hospitals' adoption of electronic health records.
"We are excited about this partnership with Hometown. When we received this funding towards helping the critical access and rural hospitals, we needed a valuable partner with an established relationship with these rural hospitals and who better than HomeTown Health, who already has a network of 56 critical access and rural hospitals here in Georgia," said Dr Mack.
In May, GA-HITREC and HomeTown Health will begin to provide education and outreach services in the form of hospital visits and live training workshops, along with online education hosted by http://www.hthu.net and webinar series that will emphasize the 6 key goals of meaningful use:

Improving quality, safety, efficiency, and reducing health disparities
Engaging patients and families in their health care
Improving Care Coordination
Ensuring adequate privacy and security protections for personal health information
Improving population and public health
Utilizing the Medicaid and Medicare Incentive Program
"HomeTown Health is committed to seeing its rural hospitals members and their physicians achieve meaningful use and take advantage of the incentives offered by Medicare and Medicaid to assist them with the large financial investment required to adopt an electronic health record and achieve meaningful use." said HomeTown Health CEO Jimmy Lewis. He continued to say, "Our motto is that we do whatever it takes to help a rural hospital survive, this EHR effort is vital to their survival and that is why we consider it such a priority."
HIT Basic Training Regional Field Boot Camps will be held over the summer and will be led by HIT Experts to provide rural hospital leadership and staff with basic training required to meet the following objectives:

Discuss the Meaningful Use Final Rule for Stage 1 , 2 and 3 criteria
Collaborate with peers to share best practices and lessons learned
Develop project timeline for achieving each stage
Understand how to qualify and file claims for EHR Incentive funds
In addition, a Stage 1 Meaningful Use Education Webinar Series will provide education for hospitals and hospital based physicians that may not eligible for incentives but vital to the success of meaningful use for every rural hospital:

Session #1 - Drug, medication, eRx related
Session #2 - Recording patient data
Session #3 - Interoperability, exchanging data outside the clinic other than to patients
Dr David Blumenthal, head of the Office of the National Coordinator (ONC) stated, "Critical access and rural hospitals are a vital part of our healthcare system. Health information technology can offer rural health care providers and their patients resources and expertise that may not be currently available in their communities. We recognize that the transition to electronic health records (EHRs) is a challenge and that rural facilities face even greater challenges to make the transition from paper to electronic records," Dr. Blumenthal said. "This additional funding recognizes the need to address these challenges and represents another important milestone in our commitment to critical access and rural hospitals throughout the country as they transition to EHRs."
GA-HITREC is a federally funded program designed to assist Georgia's providers with the selection, successful implementation, and meaningful use of certified EHR systems to improve clinical outcomes and quality of care provided to their patients. Providers eligible for our services include: physicians (MD and DO), nurse practitioners, and physician assistants in family practice, obstetrics, internal medicine, and pediatrics. GA-HITREC offers direct, on-site technical assistance and helps providers reduce systems costs through group purchasing agreements. Using a community-oriented approach, we work collaboratively with partners to guide Georgia providers through a 10-Step Roadmap to reach Meaningful Use and beyond.
Visit http://www.ga-hitrec.org/gahitrec/index.php
HomeTown Health, LLC is an organization of rural and small hospitals, located throughout the state of Georgia, who collectively pursue ways to help our hospitals survive in this environment of tremendous budget cuts from the state and federal level. What began as a handful of community hospitals eleven years ago has now grown into an organization of 56 hospital members and over 50 business partners.
Visit http://www.hometownhealthonline.com/Home.aspx
For more information contact:
Kathy Whitmire,
Managing Director, HomeTown Health
kfw(at)windstream(dot)net
706-491-3493
###