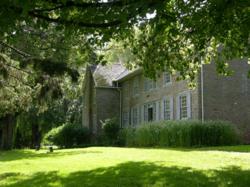 Enjoy a day filled with music, english country dancing, and re-enactors bringing the Regency to life on the St. Lawrence River.
Maitland, Ontario (PRWEB) August 09, 2012
Pack a Period Picnic – Why the heck not?
Ever try and pack a picnic with food from 1812? Few probably have, but that isn't to say it can't be fun.
You might be really daring and attempt period recipes from Hannah Glasse's 18th century guide. After all, who doesn't love boiled tongue?
Of course, the more sensible approach would be to try recipes altered to work in modern kitchens. The Jane Austen Cookbook suggests A Pretty Dish of Eggs for picnics and visits. (Certainly better than tongue in any event.)
Surely the bigger challenge is where to take a period picnic once it's packed. At least that can be easily solved on Saturday, August 18, 2012.
Homewood Museum, located between Maitland and Prescott, is hosting a garden party celebration to commemorate our shared 1812 heritage.
Enjoy a day filled with music, dance performances and re-enactors bringing the regency period to life on the rural grounds of one of the oldest houses in Ontario.
You bring the boiled tongue.
Schedule
11:00 • English Country dancing demonstration with caller Michael Berk and the Spencerville English Country Dancers. The public will be invited to participate so put on your dancing shoes!
12:00 • Militia Muster Roll – Join the 1st Grenville Militia as it prepares to defend Upper Canada.
13:00 • Regency Fashion Show with A Stitch of History
13:30 • 2nd English Country dancing demonstration, with public participation
14:00 • Militia tactical exercise with the Glengarry Light Infantry
15:00 • Historical 1812 Vignettes based on first hand accounts and performed by the Kemptville Players Inc.
Alicia Cockburn by Sandra Tobin
The Subwife by Susan Hunt
Peggy Bruce by Barb Stiles
Elizabeth Hopkins by Barb McDerby
Amelia Ryerse by Veronica Vary
Entry to the site where the re-enactments occur is free.
Regular admission applies for tours of the museum: Adults $3, under 16 $1.50. Passport -combined admission Homewood and Fulford Place until September 2 (unlimited visits) $6.
For more information please call 613-348-1246