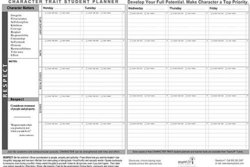 While some school are fortunate to have enough funding to buy expensive spiral-bound planners for every student, many districts are struggling to make ends meet
Los Gatos, CA (PRWEB) September 2, 2009
A free homework planner is now available from TeamUP! Tutors for the 2009-2010 school year. The in-home tutoring company is offering this homework management tool free of charge to any public, private, or homeschool student, parent or teacher with internet access.
The homework planner, which includes key character traits for academic and life success, was originally bound and distributed free-of-charge to schools in the San Francisco Bay Area. As demand increased, the company chose to make the popular planner available to students worldwide. "While some school are fortunate to have enough funding to buy expensive spiral-bound planners for every student, many districts are struggling to make ends meet," says Leon Baranovsky, founding partner. "With our free downloadable planner, students and teachers can print a week or month's worth of pages for just pennies."
To help students get the most out of this organizational tool, the company also provides free access to their homework management guide. The first part of the guide demonstrates the clear advantages associated with tracking assignments and walks students through simple steps to build their organizational acumen. Part 2, geared toward high-school students who have mastered the basics, focuses on critical time-management skills.
Access to the planner is open to everyone. Students need not be affiliated with TeamUP! Tutors or provide information of any kind to download the pages.
Since 2004, TeamUP! Tutors, Inc., has connected students with professional tutors for one-one-one, in-home tutoring. The company helps students improve grades, build confidence and increase SAT scores. Professional tutors focus on well-defined objectives and tailor instruction to student needs. For more information call toll-free 888.3.TEAMUP (888.383.2687) or visit http://www.TeamUpTutors.com.
###