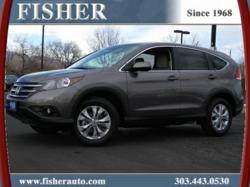 Boulder, CO (PRWEB) January 31, 2012
Ferris Bueller nostalgia hits Fisher Honda as Matthew Broderick parodies his character in the '80s classic for Super Bowl Sunday.
In honoring Honda's award-winning 2012 CR-V, Matthew Broderick returns as Ferris Bueller in a true-to-the-film Super Bowl remake of the ornery Chicago teenager's coming of age adventure, right down to Yello's iconic "Oh Yeah" soundtrack contribution. What would be more appropriate for a Super Bowl Sunday commercial for the CR-V than to immortalize it along with John Hughes' classic film? Indeed, Kelley Blue book has already recognized the classic nature of the 2012 CR-V by naming the popular SUV among the Top 10 cars in 2012 in terms of its residual value. Edmunds.com has also lauded the model as a "Top Recommended Vehicle" and as the crossover with the "Best Retained Value under $25K." The CR-V, to quote Ferris Bueller and Matthew Broderick, is "so choice, if you have the means, I highly recommend picking one up."
Fisher Honda Has the 2012 Honda CR-V for Boulder Drivers
The question at Fisher Honda in Boulder regarding the all-new 2012 Honda CR-V SUV is not "what are they going to do?"; rather, it is "what aren't they going to do?" To be sure, the 2012 CR-V is subject to many favorable deals, offers, and special incentives at Fisher Honda. For instance, select model CR-Vs can be had with $0 due at lease signing, with favorable terms of $275 a month for 35 months starting one month later. For more information on the all-new 2012 Honda CR-V, drivers can check out the new Ferris Bueller Super Bowl commercial parody before stopping in at Fisher Honda to see this fantastic full-sized SUV for themselves.
Interested buyers can stop into Fisher Honda, located at 6025 Arapahoe Rd. in Boulder, to discuss leasing a brand new 2012 Honda CR-V with one of their courteous and professional sales representatives. After all, these crossovers will be going fast. To see Matthew Broderick take up his mantle as Ferris Bueller once again live, tune in this Super Bowl Sunday, February 5, for some 80s nostalgia and a fun glimpse at the 2012 Honda CR-V.
###