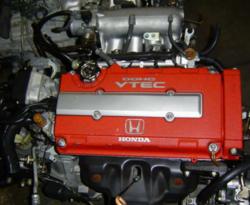 Replacement engines for compatible vehicles can be one way that consumers upgrade the quality of their current vehicle.
Phoenix, Arizona (PRWEB) June 30, 2013
Honda motors are partly responsible for the consumer demand in the various models of vehicles produced by Honda for importing in the U.S. Replacement engines for compatible vehicles can be one way that consumers upgrade the quality of their current vehicle. The JDMMotorsforSale.com company specializes in JDM engines from the Honda brand and is now selling used Honda D16Z6 engine inventory at http://www.jdmmotorsforsale.com/jdm-motors/d16z6-sale. These motors are preowned and inspected before final shipment to customers.
Honda launched its VTEC engine platform in the 1990s. This improved airflow system was responsible for improving the horsepower and performance ratios inside standard engines.
The standard four-cylinder engine base that is used for the majority of B and D series motors by Honda has been improved with VTEC technology. The preowned engines that are now sourced through the JDM Motors for Sale Co. online seek to provide better quality engines for a lower retail price for consumers.
"We sell our Honda engines in used condition and remove any importing fees," said a source from the JDMMotorsforSale.com company. Motors that originate from foreign countries are typically assessed fees when purchased directly from JDM suppliers. These fees can typically be passed along to consumers unaware of the change in price. "The prices accessed inside our database are the only prices that consumers pay upon purchase," the source added. The quote tool in use online is what supplies this pricing.
The D16Z6 engine series now for sale online is in addition to the Honda B18B1 that was introduced in the spring of this year. Consumers researching stock status information and pricing can now benefit from increased inventory available online.
A news announcement was made for the public at http://www.prweb.com/releases/honda-b18b1-engine/used-honda-engines/prweb10627771.htm recently to supply pricing information and ordering details for the VTEC series engine increases. This practice is scheduled for continuance this year as more types are included for sale online.
About JDMMotorsforSale.com
The JDMMotorsforSale.com company supplies preowned and rebuilt JDM motors for automobile owners and trade industry buyers. A group of supply companies are now importing the motors that are found in the company inventory. This company is growing at a faster pace in 2013 compared with previous years selling online. The JDMMotorsforSale.com company has constructed a way to provide online pricing for its engine inventory. A quote system for the foreign engine inventory now exists for buyers to use online. Frequent shipment incentives are announced for customer benefit each year.