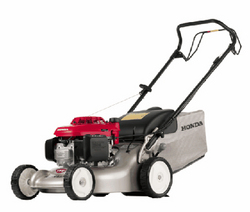 Customers who buy a Honda mower tend to be people who want to keep their mowers in good condition and get the best out of them.
(PRWEB) September 27, 2010
Quality servicing can treble the lifespan of your much-loved lawnmower and keep it cutting happily for at least 20 years, say Honda mower experts MowWithUs.
Honda mowers boast industry-leading warranties of seven years – and servicing can make them last at least three times as long as this.
Servicing is so easy that many owners are happy to service their cherished mowers themselves; others choose the care-free option of annual mower services at their Honda lawn mower dealers.
MowWithUs believes so much in the importance of servicing that it is offering free service kits or spare blades on selected Honda lawn mowers.
MowWithUs Sales Manager Steve Williment said: "Customers who buy a Honda mower tend to be people who want to keep their mowers in good condition and get the best out of them."
He added: "A mower that has been serviced properly will have higher residual values, should you choose to trade it in for another model."
Approved Honda mowers dealer MowWithUs carries out a full pre-delivery inspection on every mower it sells and offers a full Honda mower maintenance service.
"A properly serviced mower will start properly, cut better and be a joy to use. Neglecting a few simple but important servicing issues could damage not just the part in question but have a knock-on effect in the rest of the engine."
With 35 years' experience as an authorised Honda dealer, MowWithUs is well placed to advise owners keen to service their own mowers:

Safety first! Always unplug the spark plug lead before attempting any servicing. Honda mowers have lots of safety features but this simple measure is a good habit to ensure your mower will never start accidentally.
Right turn! When tipping over your Honda mower to clean the underside, always tip it to the right so the exhaust is on the ground and the air filter is in the air. This prevents any engine oil travelling down the breather pipe and contaminating the air filter. An oily air filter can prevent your mower from starting properly.
Always use genuine Honda parts. Cheap inferior parts are not only a false economy, they can invalidate Honda's industry-leading warranties.
Use fresh fuel. Don't store unleaded fuel too long. Using old fuel can make mowers harder to start. As a guideline, unleaded petrol will last up to 90 days before its performance begins to deteriorate. If your lawn is small, buy fuel little and often rather than storing large amounts that can lose their quality.
Replacing the spark plug is an important servicing point that will ensure a Honda mower continues to start quickly and easily every time it is used. Never use a wire brush to clean a spark plug – the tiny iron filings can drop down into the engine and damage it when the spark plug is reinserted.
Keeping your blade sharp is an obvious point but not everyone appreciates the importance of keeping it properly balanced as well.
A badly balanced blade will cause vibration, potentially damaging bearings and other important engine parts.
Balance-testing can be done easily at home. Alternatively, Honda dealers offer more sophisticated tests using specialised equipment.
Blades don't have to be razor-sharp. They will need regular re-sharpening only if mowing on a stony lawn. Sharpening at the normal service intervals is generally adequate.
These tips will help owners to get many years of enjoyable mowing from their machines – from the simple Honda Izy for enthusiastic hobby gardeners to the bigger and more sophisticated Honda self propelled mower models used by lawn care professionals.
MowWithUs is a division of Winchester Garden Machinery which offers more than 20 different Honda rotary mower models as part of its range of 600 machines on display.
Winchester Garden Machinery is one of Britain's largest and most experienced garden machinery dealers with at least four decades of experience and expertise.
The Honda mower dealers have four major sites – two in Winchester, Hampshire and two more in Liss, Hampshire and Sunningdale, Surrey.
For more information about Honda mowers, please contact MowWithUs Sales Manager Steve Williment, 01962 892462.
NOTES FOR EDITORS
MowWithUs
Winchester Garden Machinery Ltd
Hillier Garden Centre
Romsey Road
Winchester
Hampshire
SO22 5DL
United Kingdom
Tel: 01962 892462
Winchester Garden Machinery Ltd has been supplying and maintaining garden and commercial machinery for over 40 years, offering a personal and professional service and expert advice, enabling customers to make the right choice of machinery.
This successful approach has resulted in the company being able to offer some of the best names on grass, including Honda, John Deere and Stihl.
Winchester Garden Machinery Ltd has four separate retail locations incorporating domestic garden machinery, a specialist commercial and grounds care team, an arboricultural department and full workshop and spares support.
"One of the UK's premier Garden Machinery Dealers with more than 600 machines on display."
###