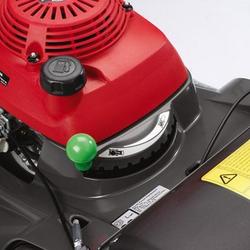 Chopped up leaves break down so much faster than leaves that have been raked up whole. Mowed leaves will compost in just a season but a big pile of uncut leaves can take up to five years.
(PRWEB) October 21, 2010
More gardeners are seizing the chance to create high quality autumn leaf compost by mulching as they mow, report Honda mower experts MowWithUs.
Leaves chopped by Honda mowers will rot down into top grade fertiliser in just 12 months – but uncut leaf clutter can take years to compost down.
Honda's HRX 537HY mower with its Versamow system enables users to control how much chopped leaf matter is collected and how much is distributed back on the lawn. All it takes is the flick of a lever.
MowWithUs Sales Manager Steve Williment said: "Autumn is a great time for mowing because you can harvest all the fallen leaves to make really great compost.
"Chopped up leaves break down so much faster than leaves that have been raked up whole. Mowed leaves will compost in just a season but a big pile of uncut leaves can take up to five years."
Autumn mowing generally means much finer cuts. MowWithUs advises raising the cutting height so the blade takes merely the top off the grass, less than a quarter of the leaf length.
That is because the grass needs the extra leaf length to help it absorb the waning sunlight as the autumn days grow shorter.
Grass will stop growing when temperatures fall below five degrees Centigrade so chopping it back hard just before winter could leave the lawn looking bare and unloved for months.
When the mowing season ends, it is important to store a Honda self propelled mower correctly over the winter to ensure it starts quickly and easily come next spring.
MowWithUs – approved Honda lawn mower dealers for 35 years – recommend the following:

Clean the mower thoroughly after the last cut of the season – particularly the underside of the cutting deck. Honda lawn mowers are tough and resilient with industry-leading seven-year warranties. Most have aluminium or plastic cutting decks which will not rust but a thin coating of spray-on oil will protect any steel components over the winter.
Always disconnect the spark plug cable when inspecting the underside and exposing the blade. Every Honda rotary mower has many safety features but this is a good common sense habit to adopt.
Always turn the mower to the right when inspecting the underside. Ensure the air filter is in the air and the exhaust is on the ground. This prevents any oil from dripping down the breather pipe and contaminating the air filter.
Drain the mower petrol tank and run the carburettor and fuel pipe dry. Unleaded fuel lasts only 90 days before its performance begins to wane. Running any mower on stale fuel makes it much harder to start. If there is any fuel left in a spare petrol can, use it in your car (if compatible). Do not save it until next year because it will go stale.
Further details can be obtained from approved Honda mower dealers such as MowWithUs, a division of Winchester Garden Machinery, one of Britain's largest and most experienced garden machinery dealers.
Winchester Garden Machinery has more than 20 different Honda mowers as part of its range of 600 machines on display.
The company has four major sites – two in Winchester, Hampshire and two more in Liss, Hampshire and Sunningdale, Surrey.
For more information about Honda mowers, please contact MowWithUs Sales Manager Steve Williment, 01962 892462.
NOTES FOR EDITORS
MowWithUs
Winchester Garden Machinery Ltd
Hillier Garden Centre
Romsey Road
Winchester
Hampshire
SO22 5DL
United Kingdom
Tel: 01962 892462
Winchester Garden Machinery Ltd has been supplying and maintaining garden and commercial machinery for over 40 years, offering a personal and professional service and expert advice, enabling customers to make the right choice of machinery.
This successful approach has resulted in the company being able to offer some of the best names on grass, including Honda, John Deere and Stihl.
Winchester Garden Machinery Ltd has four separate retail locations incorporating domestic garden machinery, a specialist commercial and grounds care team, an arboricultural department and full workshop and spares support.
"One of the UK's premier Garden Machinery Dealers with more than 600 machines on display."
###