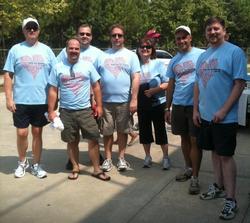 Fundraising is a constant effort for Predisan. When Jackson & Coker and Jackson Healthcare Charities offered to triple each Walk for Honduras contribution, it was like the Calvary showing up.
Alpharetta, GA (Vocus) November 19, 2010
On September 19, 2010, Jackson & Coker and Jackson Healthcare Charities co-sponsored the Atlanta Walk for Honduras to benefit Mission Predisan. Employees and compassionate physicians from across the country contributed to the cause, and their donations were matched by both companies, tripling each pledge of support. According to Mike Miller, Chief Executive Officer and Chief Development Officer of Predisan-USA, doctors, nurses and allied health personnel, both employees and volunteers, will use these funds to treat the medically underserved of Honduras.
Mr. Miller commented, "We are thrilled that the Predisan walk effort continues to grow and reach record numbers of donors. Fundraising is a constant effort for Predisan. When Jackson & Coker encouraged their physicians and associates to participate, then worked with Jackson Healthcare Charities to triple each Walk for Honduras contribution, it was like the Calvary showing up. This year, 430 plus walkers participated in Atlanta to raise over $100,000. Predisan was amazingly blessed in a big part because of our partnership with Jackson & Coker and Jackson Healthcare Charities. When these companies provided the double matching opportunity for individual pledge dollars, it was the spark needed to boost donations in a very tough economic climate. The response was tremendous and inspired many to join in -- knowing that their donation would be tripled. In my view, this was the game changer and gave us (Predisan) the momentum we needed to make this year's fundraiser a rounding success. Through this matching gift challenge, we raised an additional $27,900."
"These gifts are being used to support over 75 staff members who serve everyday in Honduras." Mr. Miller added, "The uniqueness and strength of Predisan is that our primary staff consists of Hondurans ministering to and serving Hondurans. Every day, our staff provides care and gives of their lives to impact their peers, families and community in one of the poorest areas of the world. This is a powerful model and blesses the people of Honduras with over 38,000 patient and client services each year through Spiritual Formation, Health Care and Community Development."
Chad Jackson, Director of Philanthropy for Jackson Healthcare Charities, was very pleased with the outpouring of support from both physicians and associates. "This event played a role in raising funding and awareness for Predisan Medical Missions in Honduras. We are so very thankful for the associates who helped in this event and especially for the physicians who have actually volunteered to participate in the mission itself." Jackson Healthcare Charities, a division of Jackson Healthcare, strives to serve underprivileged people that need healthcare, children at risk, foster children, and to encourage our associates to support charities and become active participants in their communities.
About Jackson & Coker
Begun over three decades ago, Jackson & Coker (http://www.jacksoncoker.com ) has been a leader in physician recruitment through the placement of physicians in both permanent placement and locum tenens physician jobs. The firm specializes in anesthesiology jobs, CRNA jobs, neurology jobs, psychiatry jobs, surgery jobs, primary care jobs as well as emergency medicine jobs. Headquartered in metro Atlanta, the firm has earned a reputation for providing cost-effective, time-sensitive solutions to both government and commercial health care organizations. The recruitment staff works in two divisions of the company: Retained Search, which places physicians in over 40 medical specialties in permanent staff positions, and locum tenens, a staffing model that recruits medical providers (physicians and CRNAs) for temporary vacancies.
Jackson & Coker has earned a "Gold Seal" designation as a "Certified Health Care Staffing Service" by the Joint Commission and is affiliated with a credentials verification organization (JH CVO) that has received certification by the National Committee for Quality Assurance (NCQA) in ten out of ten credentialing elements.
Jackson & Coker participates in social media networks such as Facebook, LinkedIn, YouTube and Twitter -- including managing separate Twitter sites focused on major medical specialties.
About Predisan
Mission Predisan is a Christian health care system begun in 1986 that provides both patient care and spiritual encouragement to residents of Catacamas and 49 rural areas in eastern Honduras. Predisan consists of nine facilities staffed by more than 75 employees who collectively provide over 40,000 patient contacts yearly. Medical services include primary care, outpatient surgery, ophthalmology, radiology, pathology, dental care, and childhood immunizations. More information on the organization is available at http://www.predisan.org .
Media Contact:
Edward McEachern
Jackson & Coker
emceachern(at)jacksoncoker(dot)com
678-277-3030
###