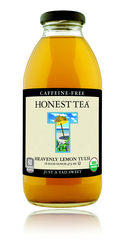 Ten Best Companies on the Planet based on their overall social and environmental record
Boston, MA (Vocus) October 14, 2010
Today, Honest Tea®, the nation's top-selling organic bottled tea company, has announced the launch of Heavenly Lemon Tulsi, a soothing herbal blend, at the Natural Products Expo East 2010.
Adding another caffeine-free option to its line of organic teas, this heavenly brew combines organic tulsi, also know as "Holy Basil," from India, with aromatic lemon peel, lemon myrtle and lemongrass for a refreshingly unique blend.
"Our consumers have been asking for another caffeine-free option, so we're really excited to bring this calming brew to store shelves," said Seth Goldman, president and TeaEO, "We've been experimenting with tulsi for some time, and combined with the unique lemon tastes, this is an innovation we think all of our consumers will enjoy."
Heavenly Lemon Tulsi is available at $1.69 at Whole Foods Market and other natural foods stores nationwide. The drink has 8 grams of sugar and 30 calories per 8 fl. oz. serving.
For more information, visit the Honest Tea booth (# 3127) at the Natural Products Expo in the Boston Convention & Exhibition Center or http://www.honesttea.com.
About Honest Tea
Honest Tea® is the nation's top-selling organic bottled tea company with a mission to make great-tasting, truly healthy organic beverages sweetened with less sugar and fewer calories than most bottled beverages. Honest Tea's product lines include: Honest Tea ready-to-drink bottled teas in glass and PET #1 bottles, Honest Ade organic thirst quenchers and Honest Kids drink pouches. In the past year the company launched Honest Mate, bottled yerba mate drinks, and Honest Kombucha, a line of fermented tea drinks. All varieties are USDA-certified organic and most teas are Fair Trade Certified™. Since Honest Tea was founded in Bethesda, Maryland in 1998, the company has sustained an annual compound growth rate of more than 60%. Honest Tea has been continuously recognized for its impressive growth and mission-driven business practices. In addition to being named one of The Better World Shopping Guide's "Ten Best Companies on the Planet based on their overall social and environmental record," Honest Tea was recently ranked by The Huffington Post as one of the leading "8 Revolutionary Socially Responsible Companies," and received Greenopia.com's coveted 4-Leaf Rating as "the greenest beverage company" for the second year in a row.
For more information, visit:
Honest Tea Online: http://www.honesttea.com
Contact:
Samme Menke
301-760-4833
samme(at)honesttea(dot)com
###