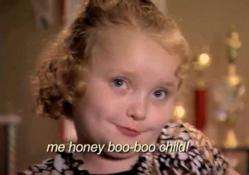 Honey Boo Boo is a cute name, but you may spend the rest of your dog's life explaining why on Earth you chose it!
Boca Raton, FL (PRWEB) September 07, 2012
"Honey Boo Boo" is the nickname of the six-year-old Alana Thompson, a cast member of the TLC reality television show, Here Comes Honey Boo Boo. The show is a spin-off of Toddlers & Tiaras, and is centered around pageant contestant, Alana and her family who reside in rural Georgia.
The series follows the Thompson family, focusing on their daily activities and Alana's entry into beauty pageants. The show also highlights the family's attempts at weight loss, raising a pet pig, buying junk food at auction, participating in the Redneck Games and the teen pregnancy of Alana's oldest sister, Anna.
According to Entertainment Weekly, "Here Comes Honey Boo Boo" is gaining in popularity with each episode. In its third week, the show captured 2.3 million viewers.
The Humane Society of the United States estimates that 3-4 million cats and dogs are adopted from shelters each year.
As long as blockbuster books and movies continue to hit the market, people gravitate toward pop culture monikers when naming their newly adopted dogs, according to VetStreet. The name "Bella" became popular after the Twilight movies; more dogs were named "Bentley" after the name of the baby on reality show Teen Mom; and many dogs were called "Nala" after a main character from The Lion King.
Dogington Post expects "Honey Boo Boo" to top the popular dog name charts next year.
The popular dog news site reaches more than 2.6 million dog lovers each week and published articles and tips for new dog parents including advice on picking the perfect name for a new dog.
"The most important thing is choosing a name that resonates with you, that you - and your dog - will be happy with for the long-haul," said Brandy Arnold, Content Editor for Dogington Post. "Honey Boo Boo is a cute name, but you may spend the rest of your dog's life explaining why on Earth you chose it!"
For more information about Dogington Post, visit http://dogingtonpost.com and check them out on YouTube.
About Dogington Post:
DogingtonPost.com was created for the love of dogs. It promises a forum of informative articles, newsworthy dog stories, health and breed information, and heartwarming videos. The site addresses current issues affecting dogs and their human parents – from serious health concerns to lifestyle issues on feeding, grooming and the overall well-being and mental health of dogs. It is the Internet newspaper, all about dogs.