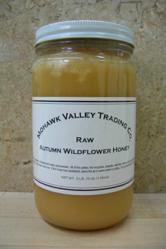 The opening of a bricks and mortar store that specializes in raw honey is further testament to the fact that raw honey has entered the mainstream. - Mary Ross, Mohawk Valley Trading Company
Salt Lake City, UT (PRWEB) February 08, 2013
The Honey Stop, a 2-month-old store located at 159 E. 800 South in Salt Lake City that specializes in raw honey, will have it's a grand opening Saturday, Feb. 9 from 9 a.m.- 6 p.m.
"At one time, the majority of people equated honey with what came out of a plastic, bear shaped squeeze bottle." said Mary Ross of the Mohawk Valley Trading Company where they specialize in raw honey and beeswax. "About the only people besides beekeepers who knew what raw honey was, were "health nuts" and gourmands."
"The opening of a bricks and mortar store that specializes in raw honey is further testament to the fact that raw honey has entered the mainstream." Ross continued.
About Honey
Honey has been used by humans since ancient times for its health benefits and as a sweetener and flavoring for many foods and beverages with tea being the most popular. Honey bees make honey by collecting nectar from flowers and regurgitating it to store in beeswax honeycombs inside their hive. Beeswax is a natural wax produced in the bee hive of honey bees of the genus Apis and one it's most popular uses is beeswax candles.
The flavor and color of honey is determined by the type of flower the bees gather the nectar from. Dark colored honey is considered to be higher in minerals and antioxidants than light colored honey and one of the most well known dark colored honeys is buckwheat honey. Raw buckwheat honey contains a higher amount of minerals and an antioxidant called polyphenol, which gives it its dark color.The benefits of buckwheat honey are many and well known.
Honey is a healthy alternative to refined sugar, however when cooking or baking with honey, it is not necessary to use raw honey since the heat destroys the all of the pollen, enzymes, propolis, vitamins, amino acids, antioxidants, minerals, and aromatics. Since the flavor and color of honey is determined by the type of flower the bees gather the nectar from, it is a good idea to taste the honey before using it in a recipe. For example; a dark honey like buckwheat honey will result in a strong, heavy, a pungent flavor, whereas orange blossom honey will result in a delicate orange flavor.
Organic honey from the United States is a myth because the country is too developed and uses too many agricultural and industrial chemicals to for the production of organic honey. Honey bees are free-roaming, wild creatures and it is impossible guarantee that while foraging they have not come in contact with prohibited substances, like pesticides.
Kosher honey is 100% honey with no additives or dilutions, thus: although not certified, pure, raw honey is kosher.
The Mohawk Valley Trading Company hours of operations are 7:00 a.m. to 7:00 p.m. EST, seven days a week. Reach them at (315)-519-2640 to learn more.