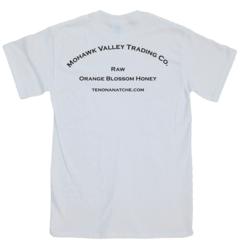 Utica, NY (PRWEB) May 15, 2013
In their effort to support and promote beekeeping, sustainable agriculture, local, small and family owned farms and other local food sources, Crooked Brook is offering a 15% discount off beekeeping and honey logo-label custom printed t-shirts from 5/15 to 5/22/2013 with the promo code "522013".
Custom t-shirts are one of the most inexpensive yet cost effective marketing tools available. One of the advantages they have over other promotional products is that wherever people wearing t-shirts with a logo or slogan on it go; the brand or message goes. It is a great way to build awareness about a cause, goods or services.
"We have T-shirt give aways all the time," said Mary Ross of the Mohawk Valley Trading Company where they specialize in varietal raw honey. "They are a great way to get your name out there."
Varietal honey is made primarily from the nectar of a particular type of blossom or flower. To capture the unique character and flavor of the blossom or flower, beekeepers must study botanical bloom and flowering patterns when planning hive placement which will determine the time of the harvest.
Although the most popular method of printing t-shirts is screen printing, Crooked Brook t-shirts are printed using Direct To Garment Printing (DTG) which is the process of using inkjet printers to print an image directly onto t-shirts without the use of screens like with screen printing, which requires a lot of setup e.g., creating screens for each color. In addition, DTG printing uses eco-friendly, water soluble ink, unlike some screen printing methods that layer Plastisol (a suspension of PVC particles in a plasticizer) on top of the t-shirt. The only requirement for DTG printing is for the image to be high resolution, resulting in photograph quality printing with no setup fee or minimums for custom t-shirts.
About T-Shirts
The t-shirt evolved from undergarments used in the 19th century, through cutting the one-piece "union suit" underwear into separate top and bottom garments, with the top long enough to tuck under the waistband of the bottoms. By the Great Depression, the t-shirt was often the default garment to be worn when doing farm or ranch chores, as well as other times when modesty called for a torso covering but conditions called for lightweight fabrics.
T-shirts, with and without buttons, were adopted by miners and stevedores during the late 19th century as a convenient covering for hot environments.
T-shirts, as a slip-on garment without buttons, originally became popular in the United States when they were issued by the U.S. Navy during or following the Spanish American War. These were a crew-necked, short-sleeved, white cotton undershirt to be worn under a uniform. It became common for sailors and Marines in work parties, the early submarines, and tropical climates to remove their uniform "jacket", wearing (and soiling) only the undershirt.
Named the t-shirt due to the shape of the garment's outline, it soon became popular as a bottom layer of clothing for workers in various industries, including agriculture. The t-shirt was easily fitted, easily cleaned, were made in various colors and patterns and inexpensive, and for this reason it became the shirt of choice for young boys.
About Honey
Honey has been used by humans since ancient times for its health benefits and as a sweetener and flavoring for many foods and beverages, with tea being the most popular. Next to maple syrup, it is the most commonly used natural sweetener in North America.
Honey bees make honey by collecting nectar from flowers and regurgitating it into beeswax honeycombs inside their hive. Beeswax is a natural wax produced in the hive of honey bees of the genus Apis and its most popular uses are beeswax candles and as an ingredient in natural skin care products.
The flavor and color of honey is determined by the type of flower the bees gather the nectar from; therefore, when cooking or baking with honey it is a good idea to taste the honey before using it in a recipe. For example: a dark honey like tulip poplar-black locust honey will result in a strong, heavy, pungent flavor, whereas orange blossom honey will result in a delicate orange flavor. Dark-colored honey is considered to be higher in minerals and antioxidants than light-colored honey, and one of the most well-known dark-colored honeys is buckwheat honey. Raw buckwheat honey contains a higher amount of minerals and an antioxidant called polyphenol, which gives it its dark color. The health benefits of buckwheat honey are many and well known.
Using raw honey is a long-term investment strategy for optimal health and personal care; the dividends are overall mental, physical and spiritual well-being. Like a blue chip stock, raw honey should be included in any health-conscious consumer's immune system boosting portfolio and the return on investment of substituting honey for refined sugar in the human diet is incalculable.