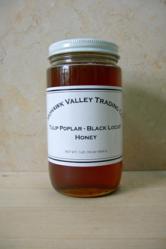 New York, NY (PRWEB) September 17, 2012
The Mohawk Valley Trading Company would like to announce that their regular 2012 Tulip Poplar-Black Locust Honey is now available in 1lb glass jars for $10.00 each.
Tulip Poplar and Black Locust trees bloom about the same time and this honey is derived form the nectar of their blossoms. Like buckwheat honey, its dark color is due to its high mineral content.
Raw Tulip Poplar-Black Locust Honey or wildflower honey is often used by pollen allergy sufferers to lessen their sensitivity to pollen by eating 1 to 2 tsp. of it each day. The idea is, that by introducing small amounts of pollen into their system by eating raw honey, a tolerance to pollen allergens is built up.
This is not Mohawk Valley Trading Company raw honey.
If you are planning to buy honey for its health-benefits, it must be raw honey. Heating honey (pasteurization) destroys the all of the pollen, enzymes, propolis, vitamins, amino acids, antioxidants, minerals, and aromatics. Honey that has been heated and filtered is called commercial, regular or liquid honey.
The reason some honey is heated is that the majority of Americans prefer the convenience of being able to spoon, pour or squeeze honey from a bottle onto their cereal or into their tea.
In addition, commercial honey is clearer, easier to measure or spread than raw honey and many people think that honey that has crystallized is spoiled so they discard it. Honey that has been heated and filtered will not crystallize as fast as raw honey.
Although the Mohawk Valley Trading Company specializes in raw honey, they also offer liquid honey for those who prefer it.
Their raw honey is not heated, filtered, blended or processed. All of the pollen, enzymes, propolis, vitamins, amino acids, antioxidants, minerals and aromatics are in the same condition as they were in the hive.
Mohawk Valley Trading Company honey is used and recommended by one of by the world's most recognized chefs; Tom Colicchio, founder of Craft and Colicchio & Sons restaurants and head judge on the Bravo reality TV show Top Chef:
"I've already shared some of Mohawk Valley Trading Company's truly extraordinary raw honeys with you and I know many of you have become converts. So, I'm adding three more of their honeys to my collection:
-Tulip Poplar & Black Locust Honey, gathered from flowering trees;
-Summer Wildflower Honey, collected from a range of flowers blooming wild throughout the summer season;
-Goldenrod Honey, derived from the pure nectar of wild goldenrod.
The three varieties are subtly different from each other: the tulip poplar & black locust honey is the deepest, richest, and most powerfully floral of the bunch, the goldenrod honey is clean and mildly spicy, and the summer wildflower honey fits somewhere in the middle, varying based on the particular range of nectars collected for a given batch.
Think about using these thick, complex honeys on yogurt, as a substitute for granulated sugar when baking, or just smeared onto toast. Personally? I also eat good honey plain, with a spoon. But no matter how you use them, these honeys will be a real star. They're head and shoulders above the mass-market stuff you buy in the supermarket."