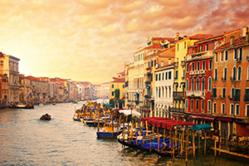 Friends and loved ones want to give something special to the bride and groom—memories that will be cherished for decades to come. And a honeymoon registry gives them this opportunity.
Boston, MA (PRWEB) July 16, 2012
Love is in the air, and wedding season is in high gear! With all the planning that goes into a wedding, couples can be overwhelmed with the added stress of planning their honeymoon. This year more couples than ever before are choosing an alternative to the traditional wedding registry hosted by department stores such as Macy's or Crate & Barrel. An exciting new service called a honeymoon registry is the latest trend, offering couples a chance to receive the trip of a lifetime in lieu of a vacuum cleaner or a set of dishes.
Although there are a variety of honeymoon registry sites available, most suffer from one of two serious flaws: either they lack the travel industry experience to craft a truly unique and memorable trip, or they tack on added fees for this service (sometimes conveniently hidden from view).
One exception to this general rule is the honeymoon registry service offered by small group tours operator Olde Ipswich Tours. For 18 years, Olde Ipswich Tours has been crafting completely customizable European tours for groups large and small, allowing their clients to envision the trip of their dreams while benefiting from the company's extensive experience in the travel industry. When a recent client requested a wedding registry website to go along with her custom honeymoon vacation to Italy, Jean Moss, owner of Olde Ipswich Tours, jumped at the opportunity.
Moss soon decided to provide a honeymoon registry service that avoided the flaws of other wedding registry sites. She likes the idea of not requiring couples to choose a cookie-cutter honeymoon or having to pay additional fees. The honeymoon registry being offered to clients who hire Olde Ipswich Tours to plan their honeymoons is a completely free service.
The wedding registry works like this: The bride and groom sit down with an expert travel consultant from Olde Ipswich Tours to create a custom honeymoon vacation. This includes selecting destinations and accommodations, transportation, and special experiences such as wine tastings or gondola rides – allowing the couple to have as much control over the planning as they desire, without having to do the planning themselves.
"Our honeymoon registry is totally flexible and customizable," says Moss. "The bride and groom tell us what they want for a dream honeymoon; we work with them to design the perfect travel adventure and then build their personalized registry webpage."
Once the itinerary is finalized, the individual components are broken into manageable pieces, each of which can be given as a wedding gift, and posted on the couple's own honeymoon registry website. When a guest selects a gift, Olde Ipswich Tours sends the guest a gift card with a picture and description of the gift.
"Friends and loved ones want to give something special—memories that will be cherished for decades to come," says Moss. "The best part is how often guests remark on the fun they had picking out a romantic dinner or a wine tasting. It is a truly personal gift."
Later, a beautiful book is made for the bride and groom showing each event on the itinerary and identifying the wedding guest who donated it. This book accompanies the couple on their honeymoon to serve both as their itinerary and as a wonderful keepsake. And, because Olde Ipswich Tours tracks all of the gifts, sending thank-you cards is a breeze for the bride and groom.
To find out more about Olde Ipswich Tours' new honeymoon registry service, please visit http://www.ipswichtours.com/honeymoon_registry.html.
Olde Ipswich Tours is a small group tours operator based in Ipswich, Massachusetts specializing in culturally rich gourmet tours to Europe. For a complete list of upcoming small group tours, or to learn more about Olde Ipswich Tours, visit our website today.