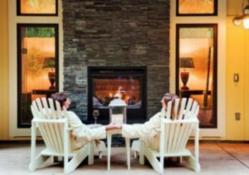 Catherine Bartolomei, Farmhouse Inn owner adds: "Sonoma Wine Country is all about romance, and Farmhouse is the epicenter. From a romantic getaway to an elopement or honeymoon, there's no more romantic spot in the world".
Sonoma, CA (PRWEB) February 19, 2013
Harried brides-to-be, pondering where to go on a honeymoon? After the flurry of the wedding is over the wedding couple might need a romantic retreat for a bit of relaxation. Fodor's and their editors have taken the guesswork out of the equation with their picks for the [Most Popular Honeymoon Destinations.
Whether bound for a bit of a wine tasting adventure, curling up with a good book in front of the fireplace, or exploring the Russian River and glorious Sonoma Coast, a bit of pampering luxury awaits at the romantic Farmhouse Inn in Sonoma's Russian River Valley. The Farmhouse Inn can double as a wedding venue and honeymoon destination with their Elopement - "tiny" Wedding package. Farmhouse Inn is most proud of their reputation for romance being already voted as most romantic by the following:
TripAdvisor Travelers' Choice Award Top 10 Hotels for Romance in the U.S.
CNN Travel Top 10 Most Romantic Adventures
and One of the 10 Coziest Hotels in America by the Wall Street Journal
Romance has been on everyone's mind with Valentine's Day just passed, but at Farmhouse Inn every day is an occasion to celebrate romance. The AAA 4-Diamond, Michelin Preferred Destination has a Michelin starred restaurant (not to be missed), a farm-to-table spa, and 6 concierges to cater to your every romantic desire.
Farmhouse Inn - Located in the stunning Russian River Valley region of Sonoma County's famed wine country, Farmhouse Inn & Restaurant is a rural sanctuary that represents the finest level of lodging, dining and spa. Eighteen sublime guest rooms and suites, a farm-fresh Michelin starred restaurant, and seasonal body treatments come together in one unforgettable experience. Surrounded by world-class vineyards, the six-acre property is anchored by an elegant, restored 1873 weatherboard farmhouse that houses the famed Farmhouse Restaurant, presided over by Farmhouse Inn Executive Chef Steve Litke and Sonoma's only Master Sommelier and Farmhouse Inn Wine Director Geoff Kruth. Arriving at Farmhouse Inn, guests are immediately transported to a gracious wine country lifestyle and can expect warm, seasoned hospitality and memorable personal encounters. Owned by siblings Joe and Catherine Bartolomei whose family has farmed in the area for five generations, Farmhouse Inn has evolved from a lifetime of shared family traditions that center around the rhythms of nature.