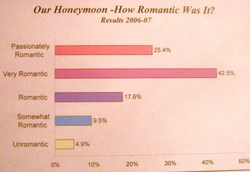 Corona, CA (PRWEB) July 24, 2007
What are honeymoon couples saying upon their return home? How romantic was their honeymoon? How much did it cost? What were their top three complaints? Would they recommend their hotel, resort or cruise line to another honeymoon couple? A recent survey conducted by a leading honeymoon planning website, HoneymoonersReviewGuide.com reports that the median honeymoon cost in 2006-07, for transportation and lodging only, was about $3,500 USD, with 62% spending under $4,000. At the other end, 21% spent over $5,000 for that special time together. Couples stayed an average 8 days. 75% of couples select their hotel from either a travel agent or travel website.
The greatest number chose the USA for their honeymoon destination, with the Hawaiian Islands by far the most popular destination, and the next largest country being Mexico. The most popular region was the Caribbean. Off to Europe or the Mediterranean went some 7%, the largest portion going to Italy. Trendy places for those who like to travel to more exotic destinations and have the money to do it, were the French Polynesian Islands of Moorea, Bora Bora, and Ta'haa; the Fiji Islands, including Tokoriki and Bequa; and Thailand. One-third of honeymoon couples had complaints about their resorts or cruise ships with the top three complaints related to facility maintenance, check-in, and restaurants. More than 30% of all complaints were never resolved. In the end however, two-thirds felt that they could definitely recommend their hotel or cruise to family and friends.
Romance? Oh L'amour! Although 85% said their honeymoon was romantic to some degree with 25% considering their stay "passionately romantic", the remainder did not consider their time particularly romantic and 5% stated that their hotel, resort or cruise ship was "unromantic".
How romantic can it get in Paradise? Here is a sample of quotes from the "passionately romantic" group:
"Soft sandy beaches, tropical breezes, oceans of blue and turquoise...married on the beach in front of our Bure...rekindlng the romance in our relationship, we felt so happy, we never wanted to come home!...our dream wedding come true...so romantic and intimate..."
The annual survey is not possible without the many honeymooners who rate their resorts and cruises and share their experiences. To encourage couples to share, 2nd honeymoons at top resorts are given away by drawings to reviewers. To share honeymoon experiences, couples can go to http://www.keysurvey.com/survey/75547/7c8c/ to complete the short survey.
The above statistics are taken from the continuous surveying of honeymoon couples performed by Honeymooner's Review Guide. The great majority of respondents were from the USA and others from Canada, the UK, Australia, India, Ireland, New Zealand, Singapore, South Africa, and the United Arab Emirates. Information on the company is available on its website, http://www.HoneymoonersReviewGuide.com/company-profile.html.
# # #