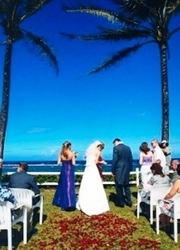 Corona, CA (Vocus) October 16, 2007
Honeymooner's Review Guide reveals their latest honeymoon planning travel aid for couples planning their destination weddings and honeymoons. Honeymoon couples can now locate and contact experts such as destination wedding planners and honeymoon travel agents. All specialists listed on the site are carefully chosen for their experience and certification.
According to Michelle McKenzie, Vice-President of Honeymooner's Review Guide, they were not at first convinced of the importance of using a travel agent when booking a honeymoon resort or destination wedding . Since many couples are on tight budgets, many used discount travel sites to purchase tickets, book hotels, and just pieced it all together the best they could. McKenzie went on to say that, "In a recent analysis of our survey results of honeymoon couples, we found that those who used travel agents specializing in honeymoons were significantly more satisfied with their honeymoons then couples who used the large travel websites or booked the travel themselves. The results were astounding and showed that the extra support travel agents offer can definitely improve a honeymoon vacation or destination wedding ."
After their recent findings, Honeymooner's Review Guide is encouraging their visitors to use travel agents by offering this free referral service. Once couples go through the easy-to-use honeymoon planning stages on the website, they can narrow down their destination, and use the hotel and resort search engine to build a list of possible places to stay. Next they can identify a travel expert using the Travel Agent Finder to further discuss their options and book their transportation and accommodations.
The new feature will let couples find wedding and travel specialists by their honeymoon destination. McKenzie states, "We organized the guide by destination to maximize the ease and quality of services available to couples. More and more agents are not only specializing in serving a target group, but in specific areas of destination travel such as the Caribbean, South Pacific or Europe. This allows for much greater expertise and usually lower pricing due to the focused relationships that the agent and specialists make with hoteliers, providers and vendors."
Couples can now start using this service and pick their honeymoon travel agent online. The listings will be expanding during the next several months as the website carefully chooses those agents who will best serve their visitors.
About Honeymooner's Review Guide:
Honeymooner's Review Guide is a full-scale honeymoon and destination wedding planning site, which includes a hotel and resort search engine. They also survey honeymoon couples and post their hotel reviews for other couples to read.
###