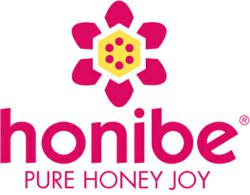 We are excited to announce that we will be launching the world's first pure dried honey products as a healthy alternative to refined sugar in our stores this month," Rob Felix, General Manager, General Merchandise from London Drugs
Charlottetown, PE, Canada (PRWEB) October 17, 2012
Island Abbey Foods Ltd.™, a PEI based natural health product and specialty food producer, has announced a collaboration deal with London Drugs. This deal will showcase the Honibe® Honey Drop® and the Honibe® Honey Lozenges™ pure dried honey products in all London Drugs stores in British Columbia, Alberta, Saskatchewan and Manitoba.
The Honibe Honey Drop is an individual serving (one teaspoon/5g) of 100% pure dried honey without any additives. It is ideal for sweetening tea, coffee or any hot beverage and will be available in 12 count packages. Honibe Honey Lozenges contain 99.99% pure honey, with a small amount of naturally derived menthol and eucalyptus and no artificial ingredients. Honibe Honey Lozenges are for the temporary relief of sore throat and nasal congestion. Honibe Honey Lozenges are only 10 calories per piece (2.5 g), have no sugar added and are available in blister packages of 10 lozenges. Both the Honey Drop and the Honey Lozenges are conveniently sized for easy transport in pockets, cars, briefcases or purses.
"We are excited to announce that we will be launching the world's first pure dried honey products as a healthy alternative to refined sugar in our stores this month," stated Rob Felix, General Manager, General Merchandise from London Drugs, "The Honibe Honey Lozenges and The Honey Drop will be a great addition to our stores in Canada." "We are happy to promote and carry another great Canadian brand on our shelves."
"As an Atlantic Canadian company, our new collaboration with London Drugs to carry our Honibe Honey Drop and the Honibe Honey Lozenges is something we are happy to announce," stated John Rowe, President of Island Abbey Foods Ltd., "London Drugs is a leader in natural health products and pharmacy retail and therefore this is a great partnership for our Honibe brand of products." "Our pure Honibe Honey Drop and Honibe Honey Lozenges are now available in all 75 London Drugs stores across BC, Alberta, Manitoba and Saskatchewan which greatly expands Honibe products availability to our customers."
Island Abbey Foods Ltd. will be sampling their Honibe Honey Drop as part of a promotional demonstration program within 20 different London Drugs stores in Canada to allow consumers to try the all natural sweetener. Demonstrations will be held at London Drugs stores on October 19th and 20th. Island Abbey Foods Ltd. invites everyone to come out to try the award winning Honibe Honey Drop for themselves!
The Honibe Honey Drop has received major national and international recognition having been awarded the most prestigious food award in the world at SIAL Paris 2010, the Global SIAL d'Or (Gold Medal), which recognized the Honibe Honey Drop as "The Best New Food Product in the World". Using the same proprietary technology as the award winning Honey Drop, the Honibe product line has since expanded to include Honey Delights candies, Honey Sprinkles for cooking and baking, and Honey Lozenges for coughs and colds. Honibe was subsequently honoured with the "Canada Brand Business Award" at SIAL (Toronto) in 2011. Honibe was also featured on one of Canada's most popular television shows, CBC's Dragons' Den, where entrepreneurs pitch their ideas to savvy business investors. The Dragons smelled money in the honey pot as Honibe was offered one of the largest deals in the shows history. Most recently, the Canadian Space Agency selected the Honibe Honey Drop as one of its 'Snacks For Space' and the Honey Drop will be going to the International Space Station with Canadian Commander Chris Hadfield's 2012 mission.
About Island Abbey Foods Ltd.
Island Abbey Foods Ltd. is a natural health product and specialty food producer based in Prince Edward Island (PEI), Canada. We are a 6th generation PEI agricultural family business with our feet firmly planted in our Island's bright red soil (ideal for farming with its high iron and nutrient content). Honibe (hon-ee-bee) brand honey is our line of all natural, specialty honey products from PEI. Under our Honibe brand we offer innovative products like the Honey Drop, the world's first 100% pure, no mess, non-sticky solid honey: Honey To Go! We also have Honey Delights honey candies, Honey Sprinkles granulated honey and Honey Lozenges with added menthol and eucalyptus for sore throat and nasal congestion relief.
For more information please visit us on the web at http://www.honibe.com or http://www.islandabbeyfoods.com.
About London Drugs
Founded in 1945, B.C.-based London Drugs has 76 stores in more than 35 major markets throughout British Columbia, Alberta, Saskatchewan and Manitoba, including its online store http://www.londondrugs.com. London Drugs offers consumers a range of products from digital cameras and cosmetics to computers and televisions. Renowned for its creative approach to retailing, the company employs more than 7,500 people with pharmacy and health care services being the heart of its business. Committed to innovation and superior customer service, London Drugs has established itself as a reputable and caring company and continues to position itself for future growth and development.
For more information on London Drugs, please visit them at http://www.londondrugs.com
Media Inquiries:
Island Abbey Foods Ltd.
Lindsay Mulligan, Marketing Manager
Phone: 902-367-9722
Email: lmulligan(at)honibe(dot)com