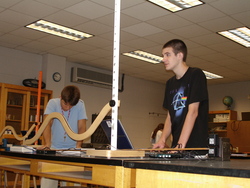 The amounts can be different in the substances. They break down and the numbers will change.
Indiana, PA (PRWEB) August 27, 2007
Summer Honors Program students at Robert E. Cook Honors College located on the Indiana University of PA Campus, discovered new ideas, considered other viewpoints and became inspired to learn more in such fields as chemistry, film, music, history, dance, creative writing and leadership.
161 accomplished high school students from across the country converged for two weeks of intensive academic exploration and a piece of the collegiate experience at RECHC at Indiana University of Pennsylvania July 15-28.
Students studied a field of choice and an interdisciplinary Honors Core course where they learned from IUP professors of literature, philosophy, history and the fine arts. They lived in Lawrence Hall, and ate in the campus cafeteria, Foster Dining Hall.
Getting hands-on experience in the university's chemistry lab allowed David Shelhammer, 17, of Johnstown, to delve deeper into experiments than is the norm in his high school science classes.
The class learned the applications and technologies of the Gas Chromatography (GC Mass-Spec), Nuclear Magnetic Resonance (NMR) and High Performance Liquid Chromatography (HPLC) equipment, then used the specialized instruments to break down and analyze aspirin.
"After a reaction was made, we got to see it," Shelhammer said. "We synthesized pure aspirin then ran it through the analytical methods. We used the data to analyze the properties, what substances they were and what the masses were. We made aspirin and ran it through the analysis."
Breaking down the properties and analyzing them is more science than you will find on the drug's label, Shelhammer contends.
"You're talking about looking at a microscrapic level, not a microscopic level," Shelhammer explained. "The amounts can be different in the substances. They break down and the numbers will change."
In film studies, Shelby Cunningham, 15, of Pittsburgh sought meaning in each film's content.
"We watched films in Red Literature primarily about coming of age and growing up in the United States," Cunningham said. "This is the stuff they're flinging at us in popular culture. You're not watching for pure entertainment. You have to think about the ideas in the film, different lights, shots, props and characters and what they mean. You don't look at the obvious. If the color red is used predominantly in the film, you know it means something. You think about it on an intellectual basis."
Creative writing students were given topics and completed quick, timed writing assignments.
"You wrote as fast as you could in timed writing," explained Altizer. "It's not an English kind of thing. It's a creative kind of thing."
"We did a lot of quick writing, seven-minute timed writing," said Noah Kane, 16, of Sunbury. "It's blitz writing. You were given a topic and go wherever you want."
Journal writing has become a new outlet for Kane's writing.
"I learned a lot of interpersonal things writing journals," Kane said. "It helps tremendously with timed writing and focusing on a topic. I felt as though a lot of my thoughts were confined to my head and they build up and build up. I have ideas. I'm going to keep a lot of my memories and future aspirations."
Leadership students interviewed leaders from campus and the town of Indiana who discussed specific issues and the role of community involvement role in their work.
"In school, there isn't such a class (leadership)," said Stephanie Anderson, 17, of Springfield, Missouri. "That intrigued me and gave me perspective. There was a lot of individualized attention. They brought in campus leaders and outside leaders. Those we interviewed said they never took a leadership course but you can learn leadership skills. We learned all different aspects of leadership. What I will take home from this is what makes a leader and I learned group problem solving."
"We started out analyzing roles within a small group and moved on to local leaders," said Beth Hendershot, 17, of Port Matilda. "We really dissected the characteristics of a leader. You have to have good people skills, be confident but not arrogant, organized, accepting, passionate and charismatic. (Leadership) isn't something that's taught in school. I believe everything taught in that class will help me a better leader."
In a unique, modified version of the university's honors college core curriculum, students were also exposed to new ideas and discoveries in all areas while they debated a question of the week such as "How do we discern the good from the bad?" and "What do we know? What do we believe? Is there a difference?"
"I got a real good idea how it will be presented here in the Honors College," said Laura Nichols, 17, of Broomall. "The overall experience is that it opened my eyes to other views."
History students probed their thoughts, beliefs, feelings and attitudes after analyzing specific reading aimed at povoking a reaction.
Shelhammer said, "We focused primarily on racial development in American history. A lot of the emphasis was reading from every possible perspective. I'm interested in history and one thing that really surprised me was I had to read a selection from Fitzhugh."
The selection was pro-slavery writer George Fitzhugh's Cannibals All! also known as Slaves Without Masters published in 1857.
"He was a belligerent intolerant," Shelhammer said. "It was a perspective that I had never considered. He defended it on economic, social and religious grounds. He cited New Testament and (Christian disciple) Paul to defend it. I thought the biggest thing I gained was not a historical fact, but a greater understanding of very extreme points of view and moderate points of view."
Hendershot said, "We spent the week looking at different mediums and connected that to the core question of the week. By the end of the week, everyone had a good idea about how to answer it. It really opened up my mind to other people's beliefs. It's fascinating to hear everyone else's ideas based on their culture and history.
"The first two days, I thought, 'Wow. It's going to be a long two weeks.' But now, for the last day, I think I wish it could be two more weeks."
# # #