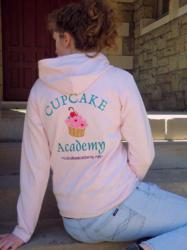 New York, NY (PRWEB) May 06, 2012
Hooded sweatshirts were popular with people who worked outdoors, way before they became fashionable and were called hoodies. When it got down to 30° the other night in upstate New York, The Mohawk Valley Trading Company figured it was time to ask their friends at Crooked Brook to sponsor another hoodie giveaway.
These giveaways are first quality, blank hoodies; custom embroidered hoodies will be offered as giveaways in the future.
The winner will be chosen randomly, from those who post a comment on the Mohawk Valley Trading Company LocalHarvest blog with an answer to this question;
What color, gender and size hoodie would you like to win?
Terms & Conditions:
You must be 18 years or older to win.
Contest ends midnight (Eastern Standard Time) 05/06/12.
Winner will be chosen randomly and contacted by email.
Winner will have 48 hours to reply or a new winner will be chosen.
Crooked Brook will ship the prize to the winner within 30 days of contest end.
Physical address required for shipping; no PO boxes, US recipients only residing in one of the 48 contiguous states.
The origin of the hoodie goes back to the Middle Ages when the standard trappings for monks were a long tunic or robe with a cowl. The hooded sweatshirt as we know it today, was invented in the United States by Champion (an apparel manufacturer specializing in sportswear) in the 1930s and the word hoodie or hoody started to appear in popular culture in the 1990s.
Today, almost every major apparel brand offers a line of hoodies. Some high-end brands offer hoodies in high-performance fabrics, knitted silk, merino wool or other fabrics. With all of the different brands, styles, profiles, fabrics and colors of hoodies to choose from, it can be a bit overwhelming.
About the Mohawk Valley Trading Company
The Mohawk Valley Trading Company (MVTC) offers the highest quality organic and unprocessed natural products they can produce. Their raw honey and maple syrup is used and endorsed by two of by the world's most recognized chefs: Bobby Flay recommends the maple syrup and Tom Colicchio recommends the honey. Not only does Tom say their honey is one of his "Personal Pantry Essentials" and "Favorite Gifts" but he also keeps "a jar of the stuff on my desk at all times."
About LocalHarvest
LocalHarvest is located in Santa Cruz, California and was founded in 1998 by Guillermo Payet, a software engineer and activist dedicated to generating positive social change through the Internet. With more than 20000 members, and growing by about 20 new members every day, it is America's #1 organic and local food website that maintains a definitive and reliable "living" public nationwide directory of small farms, farmers markets, and other local food sources. Their search engine helps people find products from family farms, local sources of sustainably grown food, and encourages them to establish direct contact with small farms in their local area. The LocalHarvest online store helps small farms develop markets for some of their products beyond their local area.
About Crooked Brook
Crooked Brook is part of the atelier division of an art studio that offers full service apparel design, pattern making, sample making, private-label small lot production and embroidery. Since 1989, they've built a strong reputation of providing top-notch apparel designs, patterns, fit and production samples for many brand name catalogs and retailers, as well as wardrobe and costumes for movies, television and theater.
All Crooked Brook branded garments and accessories are proudly made to order in the U.S.A.
Because of their unparalleled attention to detail in tailoring, they were awarded a Supima® licensing agreement. These contracts are not awarded lightly. The applicants must meet requirements insuring the highest level of quality and integrity for any products bearing the Supima® brand.
In addition, Crooked Brook designs and manufactures:
•Uniforms and chef coats for the world's most recognized chefs, hotels, casinos, spas and resorts as well as alumni chef jackets for the Culinary Institute of America. Each garment can be personalized with the customer's choice of fabric, pockets, buttons, piping and embroidery. With a design studio in New York City, (the fashion and gastronomic capital of the world) and a production facility in Utica, New York, they've garnered international brand name recognition as the maker of the "World's Highest Quality Chef Jackets™".
•Promotional products, items, decorated apparel and accessories, such as jackets, hats, sweatshirts, hoodies, polo shirts, fleece blankets, sweatshirt blankets, button down shirts, fleece jackets, golf shirts, t-shirts, tote bags, and aprons that can be customized with the following apparel decorating methods:

Embroidery
Tackle Twill
Appliqué
Direct to Garment Printing (DTG)
Sublimation
•Custom lab coats, uniforms and scrubs for nursing, medical, dental, scientific, engineering, technology & healthcare professionals.
•Custom made apparel and accessories for men and women, including but not limited to: suits, shirts, Hawaiian shirts, pants, vests, dresses, skirts, gowns, jeans, boxer shorts, martial arts and yoga outfits.
Crooked Brook ships worldwide. Hours of operations are 7:00 a.m. to 7:00 p.m. EST, seven days a week. Reach them at (315) 733-1992 or visit http://www.crookedbrook.com/ to learn more.