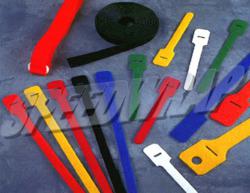 Covering the cost of all hook and loop shipments is a great way to say Merry Christmas!
Racine, Wisconsin (PRWEB) December 05, 2011
TheStrapStore.com was created by Speedtech to help customers including engineers, corporate buyers and consumers who wanted to place smaller orders for hook and loop fasteners. The website offers hook and loop ties, tapes, rolls and straps in a wide selection of sizes and colors, all for immediate purchase. For the remainder of the year, the site will offer free shipping for customers located in the United States.
TheStrapStore.com offers individual and commercial buyers, both industrial grade and lighter grade hook and loop fasteners. Ready-to-ship items include hook and loop cable ties, Speedwrap® straps, rolls and ties, VELCRO® ONE-WRAP® fasteners, Velcro's ULTRA-MATE™ fasteners. The site also includes a few items that are not made from hook and loop including the new Ty-Up™ cargo tie. The site's final product mix caters to users and installers that need industrial grade solutions as well as do-it-yourselfers preferring lighter grade, lower cost products for home use. TheStrapStore has no minimum order requirements so customers can buy, for example, as few as one bag of hook and loop cable ties or just one Cord Connector™ and now all products ship free.
Chris Karnowski, President of Speedtech International adds, "Its easy to offer Christmas gifts to our larger OEM, distributors and corporate customers but not so easy to think of ways to say 'thank you' to all of the individual customers. Covering the cost of all shipments to TheStrapStore.com's customers is a great way to say Merry Christmas."
This month's featured item is variety pack of hook and loop ties and rolls in holiday colors. Customers use the hook and loop ties and tape to wrap up Christmas lights, to route lighting in and around the home and to organize other cords and cables around the home. Made from a rich-colored, red and green hook and loop material, the product looks great next to holiday decorations.
About Speedtech International, Inc.
Founded in 1994, Speedtech International Inc. pioneered the development of hook and loop cable management products. Fabricating from a newly designed and patented VELCRO® brand fastening material, Speedtech led the market with innovative bundling, cinching, routing and fastening solutions using hook and loop. Speedtech's Engineering and Sales teams (otherwise known as the Vel-Perts™) have focused exclusively on VELCRO® and Speedwrap® brand cable ties, tape and straps and hook and loop is their entire business! Industry leader Speedtech is a growing, customer-oriented company located in Racine, Wisconsin. For help with product design, material and pricing information, contact Speedtech today.
For further information contact:
Speedtech International, Inc. Steve Pope PO Box 246, Racine, WI 53401
800-771-3896 info(at)speedtechinternational(dot)com

VELCRO® and ONE-WRAP® are registered trademarks of Velcro Industries B.V.
Speedwrap® is a registered trademark of Speedtech International, Inc.
###