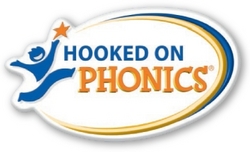 The research shows that parents understand that their involvement is critical to establishing a love of reading in children early in life so they're ready and willing to learn
Baltimore, MD (PRWEB) March 10, 2009
Eighty-two percent of parents with children 8 years old and younger say they read a book out loud to them daily, according to a study commissioned by Hooked on Phonics®.
"The research shows that parents understand that their involvement is critical to establishing a love of reading in children early in life so they're ready and willing to learn," said Judy L. Harris, CEO of Smarterville, the company that owns, creates, manufactures and distributes Hooked on Phonics®.
The telephone survey of 694 parents nationwide was conducted to coincide with the National Education Association's annual Read Across America day, held on or near March 2, the birthday of Dr. Seuss.
The study also found that parents with children 8 years old and younger read more than eight books per week to their children. Fifty-five percent of those respondents said the mother is the primary reader and 24 percent said both parents are the primary readers.
"This is indisputable evidence that parents are the most important and influential people in a child's life, and they are in the best possible position to help children learn to read and love it," Harris said.
Among the parents who have children at least 5 years old, 66 percent say their child knew how to read when she or he started kindergarten; 75 percent of these parents say they or their spouse were the primary influence in helping their child learn to read.
Among all parents, 69 percent rate their level of pride when their oldest child learned to read at 8 or higher on a scale of 1 to 10 (1 means no feelings of pride to 10 means the proudest moment of their life).
"The ability to read well is the foundation for learning and for succeeding later on, whether in the workplace, in the home and in life," said Harris. "We are delighted in the tremendous difference these parents are making in their children's reading and their education."
About Hooked on Phonics
Hooked on Phonics, operated by Smarterville Inc., is a leading creator of research-based educational products for families that are fun, easy to use, and effective. Hooked on Phonics products are available at major retailers worldwide and online at http://www.hookedonphonics.com.
About the Survey
This Smarterville survey was designed and conducted by APCO Insight, the research division of APCO Worldwide, an award-winning, independently owned global communication consultancy with offices in major cities throughout the Americas, Europe, the Middle East, Africa and Asia.
The survey was conducted among 694 parents, including 252 who have children eight years of age and younger 591 who have children five years of age and older. The sampling error for the sample of 694 parents is ± 3.7 percentage points at the 95 percent confidence interval while the sampling errors for the sample of parents of children eight years and younger is ±6.2 percentage points and among parents with children five years of age and older is ±4.0 percentage points.
The survey was conducted by telephone using a random digit dialing method among adults in the United States and screened to include parents of children of any age. The interviewing was conducted February 27 to March 1, 2009.
Contact:
Amy Bevilacqua
443-320-2041
# # #