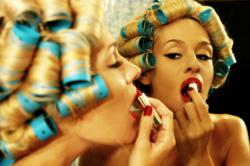 We recreated it which was sort of difficult because in the first one, D'Angelo is so humble, sensual and shy. To women, that's really sexy whereas you don't want to come across as a dude who sits around and has sex with his socks on."
Los Angeles, CA (PRWEB) September 01, 2011
Soulful pop singer Sabrina—often noted for her controversial statements—has just released her latest single "Untitled: How Does It Feel", a remake of D'Angelo's classic record that took the world by storm more than a decade ago. Tracy Tyler, the producer of the remake, also starred in the provocative new video, a calculated reenactment of D'Angelo's stunning visual performance.
Sabrina's "Untitled: How Does It Feel" was mixed in Los Angeles, CA by three-time Grammy Award-winning engineer, Niko Marzouca, who has worked with some of the biggest stars in the music business, including Lauryn Hill who is quoted as saying Niko is "one of the original analogue guys that really knows how to transform that sound into this digital world."
The song was also worked on in Atlanta by the legendary Georgia Music Hall of Fame producer and mastering engineer, Rodney Mills, who has over 50 Gold and Platinum album credits to his name. XXLMag's contributor Chad Kiser—whom Ben Westhoff of the LA Weekly called a "crackerjack PR rep"—also added production to this R&B crossover single along with Oliver Renier from Downtown Recording Studios located in Louisville, Kentucky and Denver, Colorado.
So far, the single has received rave reviews, such as top urban media website AllHipHop who called Sabrina's version of the song "Alternative Heat". Likewise, news outlet SOHH (who Rolling Stone magazine writer Mark Binelli labeled as the "best overall hip-hop site") has published multiple articles about Sabrina and her single "Untitled: How Does It Feel", one of which was picked up and elaborated on by Fox News. Celebrity journalist Raina Webber says that in the video remake, producer Tracy Tyler "strips down to nothing but a fantasy" and refers to his sex appeal as "off the chart."
"We recreated it which was sort of difficult because in the first one, D'Angelo is so humble, sensual and shy. To women, that's really sexy whereas you don't want to come across as a dude who sits around and has sex with his socks on." – Sabrina as told to Cyrus Langhorne of SOHH.
Sabrina is no stranger to good reviews. In the past, mega-influential urban media site HipHopDX stated: "Sabrina has a rich, husky voice that rains down on the eardrum. Fitting in between the heartiness of Tina Marie and the sultry appeal that Pink! first wooed with, Sabrina's voice also carries one hell of a punch." DJ Booth referred to her as a "rising soul starlet" and added, "There's no question that there are big things ahead for Sabrina." Both The Courier Journal out of Louisville, KY and Vibe magazine, along with top blogs such as 2DopeBoyz, recognized Sabrina for her work with the Grammy-nominated Nappy Roots on their politically-charged single "Election Day".
"Untitled: How Does It Feel" will be packaged and commercially distributed on Sabrina's upcoming eagerly-anticipated debut album "Something Like A Renegade" which will be released on January 17th, 2012 to all retail stores internationally through Hoopla Worldwide / WIDEawake Entertainment / eOne Music distribution. The album features an all-star cast and was recorded all over the United States as well as contributed to outside the U.S. in studios in Stockholm, Sweden (Maynea Records), Winnipeg, Canada (Tranzista Studio) and Nottingham, England (1st Blood Productions). Significantly, the distributor of this upcoming album, WIDEawake Deathrow Entertainment LLC is the same company that purchased Death Row Records for 18 million dollars in 2009 (WIDEawake Entertainment).
Sabrina and Tracy Tyler, along with their award-winning team, launched an entire campaign around this new release, branding it as "Remake D'Angelo". Ultimately, paying homage to the Virginia native is of the utmost importance to the team, who recognizes that D'Angelo is one of the most influential artists in music history. This Remake D'Angelo campaign will extend well into 2012.
Sabrina and Tracy Tyler's song "Untitled: How Does It Feel" is available digitally in both audio and video formats and is internationally distributed through INgrooves / Universal Music Group. VEVO, the leading premium music video and entertainment service, has picked up the new video as well as the candid "Behind The Scenes: The Making of Untitled How Does It Feel" for broadcast. Both of these videos were filmed and produced in Miami, Florida.
In order to properly represent D'Angelo's original performance in which he appeared nude in his tribute to Prince, producer Tracy Tyler immediately began his intense workouts. He hit Mary Brickell LA Fitness and David Barton Gym in Miami Beach where he trained vigorously for eight solid weeks. At times, Tracy said, he literally slept at the gym. Through his extreme focus and fitness dedication, Tracy was able to accomplish the look seen in the video. Due to the enormous success of his transformation, Tracy Tyler has been in negotiations with several fitness establishments to license and endorse his very own workout routine called "Tracy Tyler's 60 Days To Abs."
Besides being a national recording artist, Sabrina, who currently resides in Louisville, KY, is an entrepreneur and has a multimedia partnership with JHP. She is currently designing a custom chain for NFL superstar Chris Johnson of the Tennessee Titans and his Orlando based record label, Flashy Lifestyle Ent. Sabrina's company, Urbanista Graphix aka UBGX, has developed visuals and artwork for projects including Big Pun, Twista, Nappy Roots, Cilvaringz (of the Wu-Tang Clan), Sam Sneed (feat. Dr Dre), LBC Crew (feat. Snoop Dogg), Knoc-turn'al, Zara Phillips (feat DMC of Run-DMC), Focus… (formally of Aftermath Ent), Crooked I, Last Day of Summer (starring Twilight's Nikki Reed), author Hanane Habib and many more.
The sexy baby-making single "Untitled: How Does It Feel" from the upcoming album "Something Like A Renegade" is Executive Produced by media personality, Jonathan Hay, who is currently finishing up his book entitled "Sleepless Since Seattle" which will be released in 2012.
Listen to the new "Untitled: How Does It Feel" and watch the video remake online at http://www.remakedangelo.com. Here you can also find out more information about the all-star team, watch behind-the-scenes footage, shop the Remake D'Angelo merch store, and enter the official Remake D'Angelo sweepstakes for your chance to win a fabulous romantic getaway for two at Sandals Resorts in Jamaica.
###