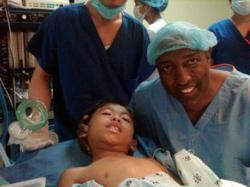 Los Angeles, California (PRWEB) May 04, 2012
Dr. Calvin Johnson, an anesthesiologist at La Peer Health Systems in Beverly Hills is making time to play 12 hours of basketball to raise funds for the Sihanouk Center of HOPE Hospital in Cambodia.
The fundraising basketball marathon is called, "Play For A Purpose – Hoops 4 Hope" sponsored by Hope World Wide. The basketball marathon is being held May 26, 2012 in Pasadena, California. Hope World Wide is fundraising to support the procurement of new medical equipment and the operation of a new hospital and Pediatric Center in the coastal southern region of Kampot, Cambodia.
Hope World Wide (HOPEWW.org) hopes to replicate the procurement of the Sihanouk Hospital Center (SHCH), which opened over 15 years ago. The SHCH provides more than 65,000 freepatient consultations a year and treated their 1,000,000th patient in November 2009.
The Cambodian locals refer to SHCH as the "Angel Hospital" because of its reputation to help very ill people find treatment, to get healed and to be sent back home to their family alive. SHCH has become the most sought after institution for medical training and is the most active adult hospital in Cambodian.
In January 2012, the SHCH celebrated the opening of a new Women's Health Center (WHC) to provide health check-ups for women of all ages. 86% of the patients who are treated at SHCH come from a rural province, and 68% of those patients are women. Too many women come to the hospital in pain and are hopeless to get treatment, only to be told that they have a few months to live because their cancer is highly advanced and irreversible. The new WHC facility hopes to end this and provides treatment to womenof all ages and aggressively takes a preventative medical care roll with annual checkups regardless if the women are able to pay.
La Peer's Dr. Johnson has been a medical care volunteer, providing financial support and teaching with the SHCH for the last 14 years. Dr. Johnson's writes on his fundraising page, "[SHCH] It has changed my life; and with your donation you can save the life of a Cambodian Child, mother, and father!"
If you'd like to learn more about volunteering, sponsorship or fundraising opportunities at HOPE worldwide, please visit their website HOPEWW.org.
To sponsor Dr. Johnson, please visit his event page here.
La Peer Health Systems, located in Beverly Hills in Los Angeles county, focuses on excellence in patient care and offers the most advanced and contemporary treatments and equipment that the medical world has access to. With 42 doctors across 13 departments, from anesthesiology to urology, La Peer offers comprehensive and widespread medical treatments for all patients. More information about La Peer Health Systems can be found at http://www.LaPeerHealth.com