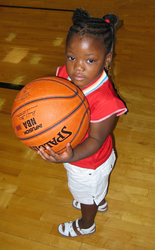 We are very excited to partner with Hawk on Hoops for Hope LA. Our vision is for an empowering collaboration that will last beyond our children's children. Mary Elizabeth Yoder, Founder TheACY
Los Angeles, CA (PRWEB) February 15, 2010
Former NBA player, Juaquin Hawkins, has teamed up with The Arnold C. Yoder Survivors Foundation (TheACY) to present Hoops For Hope LA. This event will provide an opportunity for young boys and girls to experience playing on the same floor as their favorite NBA players. The event will feature a celebrity basketball game, performances, and more. Everyone in the community, including Magic Johnson and all celebrities, is invited to enjoy this amazing fund-raising cause!
"The challenge to Magic Johnson is more of an opportunity to thank him," said Juaquin. Hawkins known as the 'HAWK' was not drafted by the NBA, but he recalls how one encounter with Magic Johnson changed his life. "One day during a pick up game at UCLA, I seized the opportunity to show my skills in front of my idol, Magic Johnson." The following week, I had a try out for the Los Angeles Lakers and a contract to attend veteran's camp with the team. I really want Magic to attend our event on February 23, 2010 so that I can present him with a token of my appreciation for the opportunity he gave me."
On February 23, 2010 at the world famous Staples Center in Downtown Los Angeles, Hawkins will have that chance. The first annual Hoops for Hope LA hosted by former NBA player Juaquin Hawkins and The Arnold C. Yoder Survivors Foundation will be filled with the giving spirit of Hawkins and the foundations and the causes he holds dear to his heart.
You may be familiar with Juaquin's story. On New Year's Day 2008, Juaquin at the young age of 34 suffered a stroke while in Australia. While his struggle of survival is a heroic one, Hawkins is more concerned that you know about his commitment to kids in the inner city of Los Angeles and cities around the US. As the founder of Hawks Hoops Sports Foundation, Juaquin teaches the fundamentals of basketball to boys and girls ages 5-18.
The Foundation also mentors kids at after school programs by conducting basketball camps that educate kids about the advantages of sports and education. After a brief encounter with TheACY's founder, Mary Elizabeth Yoder, both organizations saw the synergy that exists between Hawks Hoops which helps kids stay active and out of trouble, and TheACY which provides grief support for the youngest witnesses of often horrific crime in the inner cities around the country. The inner city experience can come from the death of a loved one, or in the loss of a family member to incarceration.
"I saw this as the perfect opportunity to fulfill TheACY's mission of providing grief support for survivors on both sides of tragic events," said Yoder. "We are very excited to partner with Hawk on Hoops for Hope LA. Our vision is for an empowering collaboration that will last beyond our children's children."
With less than three weeks to pull off a celebrity basketball game, and a youth basketball camp, the pair added even bigger challenges: to make this event a live streaming telethon of celebrity phone banks, live twitter and facebook interaction, and first class affordable entertainment for Los Angeles area families. The fun filled day will start with the basketball camp at 5:00 pm. Followed by the celebrity game at 7:30 pm.
Hoops for Hope which stands for Helping Others Promote Empowerment in collaboration with TheACY will be pulling out all of the stops to bring awareness to both foundations, as well as to American Stroke Association in which Juaquin is an Ambassador. Also during the event, the first ever 'H.O.P.E Honoree' will be presented to a young mother, multiple amputee, to help her purchase the prosthetic limbs she needs to enable her to care for her 5 year old child.
All of this will come together in less than 2 weeks! Only in LA can an event of this magnitude succeed. This is why Hoops for Hope LA is issuing a challenge to Magic Johnson, Snoop, Justin Timberlake, Gabriel Union, Serena and Venus Williams, The LA Clippers, Jay Leno, Jack Nicholson, Paris Hilton, Justin Bieber, and all celebrities, music and sports icons in Los Angeles, to help make this the best basketball camp and the most celebrity filled event of the year.
About Juaquin Hawkins:
Originally from Lynwood, Ca, Juaquin Hawkins has proved perseverance is a extremely valuable character trait. He grew up with out ever seeing his father, he worked hard to get an education, stayed focused on his ambition, and reached his goal of becoming a professional basketball player. Hawkins' career spans five different countries, the ABA, CBA, IBL, The Harlem Globetrooters, and briefly with The Lakers, Clippers, Bucks, and Warriors. He finally made the Houston Rockets as the second oldest rookie in the NBA at that time. New years day 2008, Hawkins would face his toughest challenge yet. He suffered a stroke while playing professional basketball at the age of 34. Hawk, as he is affectionately known, was disabled and went through many months of speech and physical therapy. He defied the odds and returned to play professional basketball again. Prior to his stroke, Hawkins was already giving his time and energy to others. Now he has emerged with an even bigger sense of purpose and willingness to give to others who have significant needs. Juaquin Hawkins is the founder of Hawks Hoops Sports Foundation.
About Hawks Hoops Sports Foundation:
This foundation is dedicated to providing after school programming, youth basketball programing, mentoring and HOPE; Helping Others Promote Empowerment. To learn more visit Hawk-Hoops.com
About Mary Elizabeth Yoder
Mary Elizabeth Yoder, was with seven of her family members when a drunk driver struck their car. Yoder's life went upside down and inside out until she finally learned how to create the proper environment to fully grieve the death of her father, Arnold C. Yoder, some 24 years later. Mary's Story, is a short documentary she is currently producing on the power of forgiveness. Like the Phoenix rising from the ashes, she has emerged as a powerful healer. Mary Elizabeth has taken her personal tragedy and created a miracle to benefit others. In addition, Yoder has developed a model that is innovative and new. Mary Elizabeth Yoder is a catalyst for others to claim their own light and empowerment. In her presence, you can not help being captivated by her spirit, her love for life and everyone in it. Mary Elizabeth Yoder will instantly inspire you.
About The Arnold C. Yoder Survivors Foundation
The Arnold C Yoder Survivors Foundation (TheACY) is a 501c3 non-profit organization dedicated to empowerment. Our mission is to provide a loving, safe environment which allows grieving children, families and survivors on both sides of tragic events to discover their own unique Grief - Forgiveness - Healing process through peer support groups, art therapy and education.
###