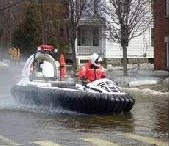 It's capabilities are unmatched as a search and rescue vehicle. Hovercraft go where no other search and rescue support vehicles can. Armed with 2 Aircraft engines it Gets the JOB done!
Merrillville, IN (PRWEB) May 16, 2012
Hoosierhovercraft.com announces its mission to bring an air commander 6 search and rescue hovercraft to northwest Indiana and Chicago. It will assist first responders on local rivers plus Lake Michigan. It is the ultimate rescue craft for land, water, and ice. Hovercraft are specifically designed for disasters, such as floods and night rescues in hard to reach areas.
These are first responder craft that give rescue personnel quick deployment and greatly speed aid to victims that have little time. They cut risk dramatically because they are so versatile. Nothing compares to these crafts because they do the job of a helicopter, boat and a 4 wheeler.
Spokesperson and Hovercraft operator Rob A says "Many of you know and understand the capabilities of theses craft. Not having one puts responders at a great disadvantage and increases the risk to their own lives. It is honorable to die saving our loved ones, but it is not necessary with the proper equipment. This hovercraft will save many lives because of it's capabilities armed with cutting edge technology. Just because it all starts off as a disaster doesn't mean it has to end that way.
"We are asking all of you who value life to help us complete the purchase of this craft, with needed supplies. It is heart breaking watching the news reports of our loved ones dying needlessly. Help us save those lives. These are our wives, husbands, mothers, fathers, friends, children, etc. and sometimes our pets."
Join us in this worthwhile cause.
http://www.hoosierhovercraft.org