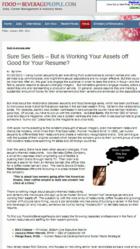 Princeton, N.J. (PRWEB) January 20, 2012
Noting the growing number of restaurant and beverage chains using sexual imagery to sell anything from chicken wings to espresso, FoodAndBeveragePeople.com spoke with human resources experts from around the country about the impact of putting work experience associated with sexually themed restaurants like Hooters and Baristas, on a resume.
The article, entitled "Sure Sex Sells but is it Good for Your Resume?" reminds the audience that the goal of a resume is to land a job interview. Recruiters often have less than five minutes to scan a resume. For the jobseeker, that translates to having to ensure some small detail doesn't put your resume in the batch with "ignore" or "later" candidates.
The article is representative of FoodAndBeveragePeople.com's mission to help individuals at every stage of their career. While employers value work experience, they also are concerned about things like sexual harassment litigation and building a workforce that focuses on meeting company-set goals. The article offers a number of expert perspectives and practical solutions for ensuring a resume is not ignored due to guilt-by-association.
About the website: FoodAndBeveragePeople.com, the website published by Food And Beverage People Media Group, LLC, is for and about the people that drive the food and beverage industry in the United States. Industry professionals at every stage of their career will find job listings, news, newsmakers and industry trends to inform their business and career decisions. Individuals needing to keep up with the vast food and beverage industry, but with little time to spare can sign up on the site for free e-mail newsletter service or follow us on http://twitter.com/foodandbevbiz or http://twitter.com/foodandbevjobs
###