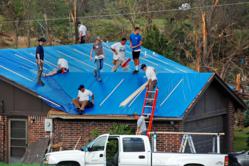 Our vision is to equip and empower willing responders to serve in immediate aftermath and recovery efforts, whenever and wherever disaster strikes, Minton says.
Oklahoma City, OK (PRWEB) May 28, 2013
Trained disaster response teams from Hope Force International have deployed into the aftermath of last week's Oklahoma's deadly tornadoes, offering practical assistance and chaplaincy. The first teams are on the ground and other Reservists will be joining them for the effort.
Hope Force Reservists are working in an area in the vicinity of Moore that sustained substantial damage. "We're focusing primarily on the application of blue tarps," commented Hope Force Founder/CEO Jack Minton. "When it rains, homeowners are suffering further damage to their homes." A number of people have helped neighbors put tarps over their damaged roofs but the tarps are already coming loose in the weather. "We are coming alongside to place more secure tarps for the longer term until insurance companies can assess and help homeowners with repairs," said Minton. Hope Force teams are also securing broken windows with plywood and doing other emergency repairs as needed to secure homes from further damage.
Homeowners are grateful for the free assistance which is protecting their belongings that weren't destroyed in the bouts of severe weather that occurred from May 18 -21 in a number of Midwestern states. Minton stated, "At least 60 tornadoes were confirmed, with several suburbs of Oklahoma City experiencing the worst of the damage. Officials are estimating more than $2 billion in damages as a result."
Hope Force is working east of Oklahoma City in the first area to be impacted by the tornado outbreak. The following day, tornadoes hit the densely populated town of Moore, Oklahoma, which received catastrophic damage. First responders from Newalla went to help in the neighboring city of Moore. Hope Force Reservists are lending some assistance to the homeowners in Newalla, Little Axe and Shawnee hoping to cover for some of the town's own first responders while they are helping in Moore.
Funds are being sought to assist in the purchase of supplies required to accommodate ongoing relief efforts in Oklahoma tornado aftermath. Individuals wishing to contribute to the Hope Force disaster response efforts are encouraged to go to the organization's website – http://www.hopeforce.org. "These tornadoes have been truly devastating," says Minton. "We have Reservists coming in from all across the nation. Please pray for the families of those who have lost their lives -- and for the necessary relief and recovery that will be taking place in the days and weeks ahead.
"Hope Force International wants residents to know that there are people willing to come alongside and bring desperately needed help. Tornadoes leave a path of destruction but also leave people in shock and deeply traumatized. We train Reservists for just such a time as this," stated Jack Minton.
Hope Force specializes in training individuals for the arduous task of disaster response, and has trained over 1,300 responders throughout North America. The course includes two days and two evenings of preparation for service. This training is required to be considered as a Hope Force Reservist - eligible for rapid deployment, often within 24 to 48 hours following a disaster event. The city of Nashville, Tennessee, hosts the next Reservist Training – September 19-21, 2013. To register or obtain more information, visit http://www.hopeforce.org.
"Our vision is to equip and empower willing responders to serve in immediate aftermath and recovery efforts, whenever and wherever disaster strikes," Minton says. "Hope Force International has experienced rapid growth as people around the world respond to the cries of help from those who are suffering."
###
About Hope Force: As a leading non-profit organization dedicated to disaster response, Hope Force is comprised of individuals who are dedicated to utilizing their expertise to inspire, equip and mobilize volunteers into areas of crisis around the world. Founded by Jack and Cherie Minton in 2003, Hope Force endeavors to become a leading volunteer response force, bringing hope to those affected by crisis or disaster.
As an agency dedicated to "A compassionate response to crisis and disaster" -- staff members and Reservists are committed to providing individualized attention and assistance to those affected by natural disasters, including events such as U.S. Hurricanes Katrina and Sandy, and the January, 2010 earthquake in Haiti, where the organization continues to serve in recovery efforts. The Haiti earthquake was responsible for taking close to 300,000 lives.
More information about Hope Force can be found at the website http://www.hopeforce.org.