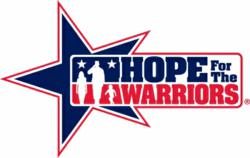 We are excited to bring Nelson's strong leadership to Hope For The Warriors®
WASHINGTON, DC (PRWEB) January 07, 2013
Hope For The Warriors® is pleased to announce Bill Nelson, former Chairman/CEO of HBO®, as the newest member of their Board of Directors. Nelson has been a member of the Advisory Council since 2008 and a longtime supporter of Hope For The Warriors®.
Nelson retired from HBO® at the end of 2012 after more than 28 years with the company. He has been the chairman and CEO since 2007. He is also a Vietnam combat veteran and served with the U.S. Army's 101st Airborne Division.
"It is an extreme privilege to join the Hope For The Warriors® Board of Directors," Nelson said. "Hope For The Warriors® is one of the most effective organizations in supporting our returning warriors in need."
Nelson's retirement encouraged donations from both HBO and its employees. Funds donated will support spouse/caregiver scholarships and the A Warrior's Wish® program. Employees also had the option to donate to Hope For The Warriors® throughout 2012 as part of their employee giving program.
"For many years, Bill has led HBO® to be both financially successful and socially responsible," Robin Kelleher, Hope For The Warriors® President said. "He will leave an important legacy to the company for many years to come."
Nelson was first introduced to the Hope For The Warriors® principals at a New York screening of HBO® Film's Taking Chance, a movie about Lt. Col. Michael Strobl, USMC and his journey to escort the body of PFC Chance Phelps, USMC, who was killed in action in Iraq, back to his family in Wyoming.
"We are excited to bring Nelson's strong leadership to Hope For The Warriors®," Kelleher said.
The mission of Hope For The Warriors® (http://www.hopeforthewarriors.org) is to enhance the quality of life for post-9/11 service members, their families, and families of the fallen who have sustained physical and psychological wounds in the line of duty. Hope For The Warriors® is dedicated to restoring a sense of self, restoring the family unit, and restoring hope for our service members and our military families.
Hope For The Warriors® understands the challenges, pride, and joy of being a military family. For today, tomorrow, and years to come, Hope For The Warriors® will strive to meet the changing needs of service members and their families.
Hope For The Warriors® has earned a Four-Star rating from Charity Navigator (http://www.charitynavigator.org), an independent organization that evaluates fiscal responsibility and accountability of nonprofits.
Hope For The Warriors® (Federal Tax ID 20-5182295) is a 501(c)(3) tax-exempt charity as defined in sections 509(A)(1) and 170(B)(1)(A)(VI) of the Internal Revenue Code. Combined Federal Campaign, CFC #27800.
###