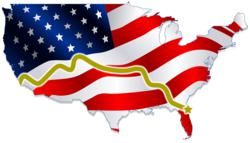 (PRWEB) May 17, 2013
Eight bicyclists will begin an odyssey across the country in an effort to raise funds and attention to the needs of today's military families. The cyclists will bike more than 3,000 miles, beginning in California and finishing 35 days later in Florida. Funds raised will benefit , Hope For The Warriors®, a national nonprofit organization that assists post-9/11 service members, their families, and families of the fallen.
The Ride Across USA, led by team captain Tracy Draper, will begin on June 4, 2014 in Malibu, CA. The cyclists will complete their ride on July 8, 2014 in Amelia Island, FL.
"Our cross country ride will raise money and awareness for the needs of our wounded heroes of post-9/11 military veterans who have given life and limb for the freedoms we enjoy." Draper said. "We cannot let their sacrifices go unnoticed."
Contact Draper for more information at 352.455.3545 or Tracy(at)RideAcrossUSA(dot)com. The team is seeking donations from both individuals as well as corporate sponsors. To learn more and donate to Hope For The Warriors® on behalf of the riders, visit: http://team.kintera.org/2013/rideacrossusa2014.
The team is seeking corporate sponsors to cover the costs of the nationwide ride. Corporate logos can be used to decorate the team uniforms for the ride and for the thousands of miles of training prior to the ride. Corporations interested in sponsorship opportunities should contact Draper directly. Private donations to help defray the costs of the bike ride should be mailed to MDCT/Ride Across USA; PO Box 1406, Mount Dora, FL 32756.
Highlights of the Ride Across USA include meeting wounded heroes along the way, visiting military installations, the Grand Canyon, United States Air Force Academy, traversing Kansas, Missouri, Tennessee and being involved in a July 4th parade in Alabama on the way to Ft. Benning, GA and across the Peach State before heading to the north Jacksonville area of Florida.
Each team member has had a long-standing dream of riding across the country. To be able to realize this dream and help the most deserving Americans is a win-win situation. Team members include veterans, mothers, a fireman, a mechanic, entrepreneur, a college student – a well-rounded representation of our fellow Americans. For more information on the team and ride, see RideAcrossUSA.com
The mission of Hope For the Warriors® is to enhance the quality of life for post-9/11 service members, their families, and families of the fallen who have sustained physical and psychological wounds in the line of duty. Hope For The Warriors® is dedicated to restoring a sense of self, restoring the family unit, and restoring hope for our service members and our military families.
Hope For The Warriors® has earned a Four-Star Rating from Charity Navigator (http://www.charitynavigator.org) for two consecutive years. Charity Navigator is an independent organization that evaluates fiscal responsibility and accountability of nonprofits.
Hope For The Warriors® (Federal Tax ID 20-5182295) is a 501(c)(3) tax-exempt charity as defined in sections 509(A)(1) and 170(B)(1)(A)(VI) of the Internal Revenue Code. Combined Federal Campaign, CFC #27800.
###